By Rick Ness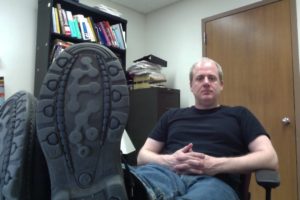 I'll start this essay with some "fun" facts: Charles Darwin was an ordinary student whose father told him he wouldn't amount to anything; John Stuart Mill was thought by his father to be of mediocre intelligence; Tolstoy was considered very dull, William James unexceptional. Michael Jordan was cut from his high school basketball team (Dweck 38). You get the point: these "mediocre" talents all turned out to be geniuses in their field. And we celebrate them for their genius. But we don't really celebrate them for their hard work. Why? I suppose because genius is sexy and hard work isn't sexy. Of course, we respect hard work, but we don't glorify it. We value talent, brilliance, and genius more—whatever those terms mean. We even have a pejorative term for hard working students who achieve success through hard work rather than natural intelligence: we call them grinds.
I'm not questioning these values in themselves; hard work and brilliance are both good things. I'm questioning why we value the dichotomy, which may be a false dichotomy, and, in fact, there are plenty of psychologists who believe that genius is something that grows out of hard work rather than existing independently of it. I'm wondering how this culturally ingrained dichotomy, which is so clear in our imaginations, affects our teaching practices in both writing centers and classrooms.
In the Spring semester of 2017, I participated in an Ongoing Education seminar led by Brad Hughes called What Does a "Growth Mindset" Have to Do with Our Work with Student-Writers? Brad invited a PhD student from the psychology department named Emily Clarke, and Emily generously shared some of her own research and introduced us to some research conducted by the psychologist Carol S. Dweck, who studies academic achievement in terms of "fixed mindsets" and "growth mindsets."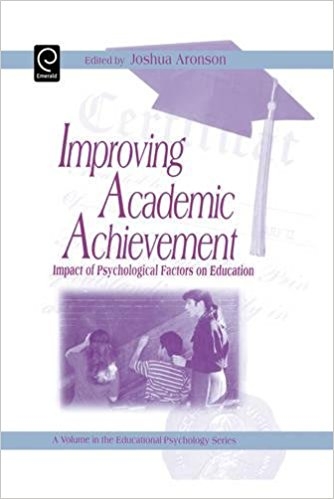 A fixed mindset, according to Dweck, is one in which students think intelligence is fixed and that one's performance, whether good or bad, accurately reflects that intelligence. Conversely, a growth mindset perceives intelligence as malleable, that intelligence grows when difficulties and intellectual challenges are overcome. Dweck notes the impact these two different mindsets can have on learning and intellectual growth:
"Do students believe their intelligence is a fixed trait or an expandable quality? Do they believe their failures are due to a lack of effort or a lack of ability? Do they believe they are doing a task to learn something new or to show how smart they are? These beliefs are key components of students' eagerness to learn, their love of challenge, their ability to persist and thrive in the face of difficulty. This is why they are key factors in what students achieve—quite apart from their intellectual ability" (37).
Dweck's research suggests that students who have a fixed mindset focus on looking smart, and they tend to give up when things become challenging because when performance is tied so directly to who you are, it is actually a risk to your self-esteem to try again and fail. In other words, when students give up, they are protecting their self-image as smart and capable people. On the other hand, students with growth mindsets focus on the challenges rather than IQ. They enjoy the learning process more and don't mind making mistakes. And perhaps more importantly, they take advantage of new learning opportunities instead of sacrificing them due to fear of failure or not looking smart (41-3). [see table 1]
How Can Instructors Cultivate a Growth Mindset?
One takeaway from Dweck's research is that simply doing the work should not be equated with learning. Nor, for that matter, should doing the work well…or well and quickly. Counterintuitive as it may seem, completing the work well and quickly might even be a sign that a student isn't learning—or at least not being challenged enough. Which is why one of our most important (and difficult) tasks as instructors is to seek and find evidence of learning.
A second takeaway is a simple pedagogical question: as instructors, should we be more invested in cultivating a growth mindset in students in both our Writing Center and classroom practices?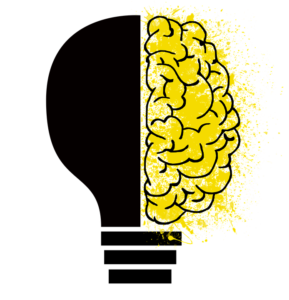 As English instructors, we are tasked with teaching students writing skills and helping them understand content and to think critically. But how important is it to try to change students' beliefs about where real achievement and success come from? My feeling is that, in addition to teaching them content and skills, we should cultivate a growth mindset and teach them that success comes from overcoming challenges and not from any inborn talent—and we should make more than just a perfunctory effort to do this. Dweck's research is thorough and compelling, and it strongly suggests that as TAs we could improve learning outcomes if we taught students to attach failure, difficulty, and success not to identity, but to the process of intellectual growth, which happens with practice.
In her research, Dweck has encountered a lot of young students who literally equate hard work with low intelligence. As English instructors, it can be particularly difficult to sway students from this view because writing is one of the hardest things to do well. How many times have we been told by a student that they're bad writers, often to find out that their papers are very well written? And perhaps this all-to-common scenario is about more than just modesty or lack of confidence. Maybe it reflects a larger cultural problem about how learning and intelligence are perceived and represented. As Dweck declares, "I believe there is no more damaging view for students than the belief that effort is unnecessary (if you're smart) and ineffective (if you're not). And it goes right along with a belief in fixed intelligence" (43).
Needless to say, we're frequently faced with fixed mindsets at both the Writing Center and in our classrooms, which means we have lots of opportunities to cultivate a growth mindset with students. But how do we go about doing this? In the classroom, I would suggest that an easy way to start is to simply introduce them to the fixed/growth mindset theories on day 1. Assure them that writing is challenging, and that it's normal to struggle, and that struggle is not a sign of inability but a sign that learning is happening. Tell them that you—an experienced writer, perhaps a published one—struggle with writing, too. Why not even tell them anecdotes about Charles Darwin and Michael Jordon? Everyone will identity with them. Tell them that intelligence is malleable and can grow significantly. Fixed mindsets are often assumed by students and they don't know of any other way to think about learning, so simply explaining what a growth mindset is on day 1 can be a significant first step toward changing their attitude toward learning. Another way, as Dweck discusses, is by praising effort rather than intelligence. Her study shows that students who are given intelligence-praise performed worse when things became difficult, whereas students who received effort-praise improved. [see table 2]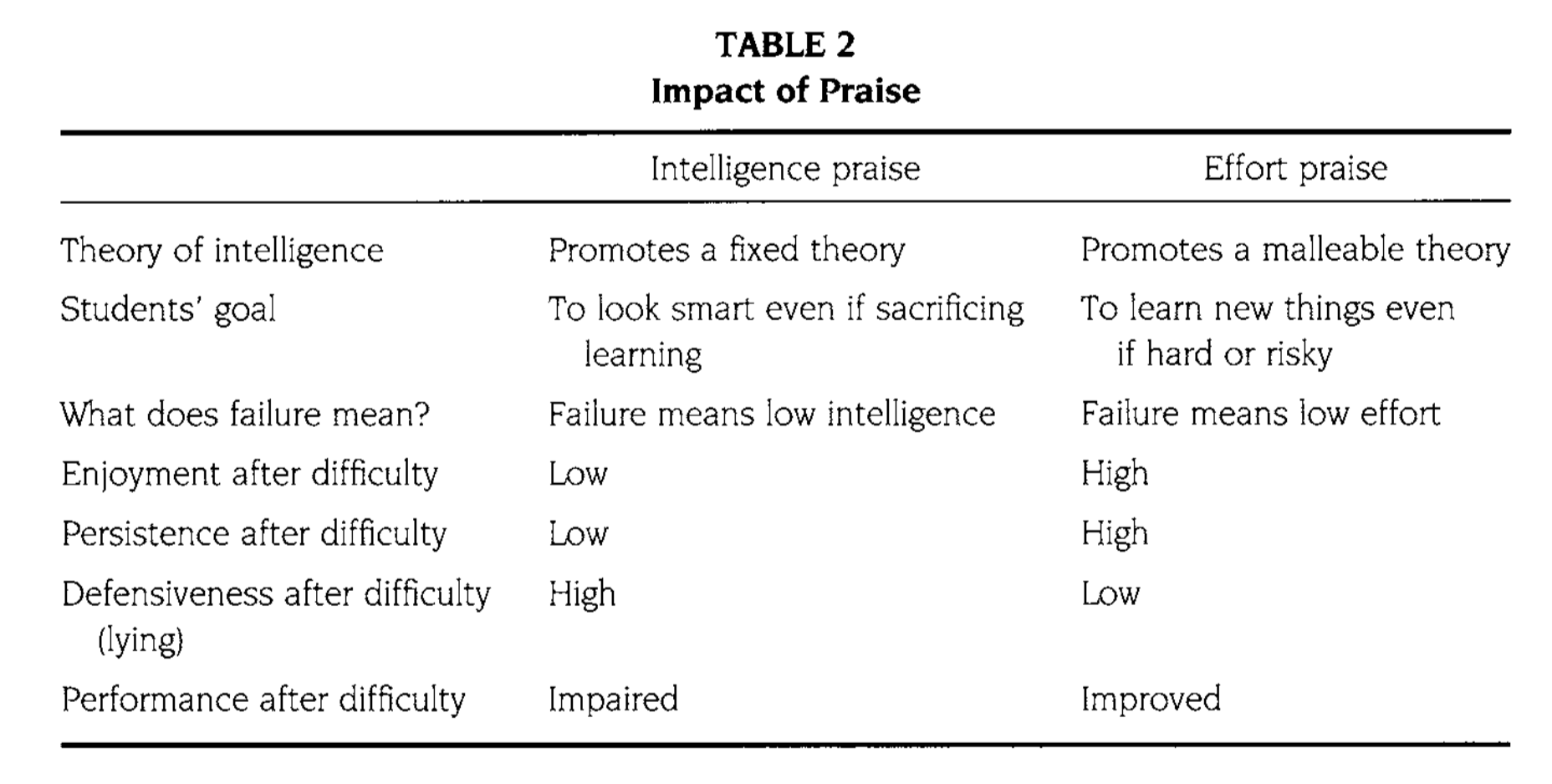 In the Writing Center (and in student conferences), we might use language like "I can see you put a long of work into this paper and it paid off" rather than "you're an excellent writer." This might seem counterintuitive because compliments are confidence builders, and making students more confident writers is indeed very important, and it's part of our mission at the Writing Center. But the other side of that coin is that compliments about ability can later be a confidence destroyer when the student meets a difficult challenge, because that difficulty might be interpreted as a lack of ability. So praising effort in a way that actively cultivates a growth mindset might be a more reliable way to achieve that mission. In fact, we might think of it as a "growth rhetoric" that we incorporate not only in our criticism and praise, but also in our syllabi, our lesson plans, and the conversations we have about writing.
I would love to open up a conversation about this, and I invite comments about how we can cultivate a growth mindset (and discourage a fixed mindset) in our Writing Center and classroom teaching practices. Feel free to offer suggestions and share experiences you've had with the fixed and/or growth mindsets in your own teaching. Thanks for reading!
Lisa Simpson's fixed mindset
Works Cited
Dweck, Carol S. "Messages That Motivate: How Praise Molds Students' Beliefs, Motivation, and Performance (in Surprising Ways). Improving Academic Achievement : Impact of Psychological Factors on Education. Ed. Joshua Aronson. Boston: Academic Press, 2002.