By Leah Pope 
Every semester, the Outreach team of the UW-Madison Writing Center devotes dozens of hours to visiting classrooms, workshops, resource fairs, and student organizations to deliver brief introductions to the Writing Center's services and teach or co-teach workshops on various genres and aspects of writing [1]. As the TA Coordinator of Outreach this year, I have the unique pleasure of a bird's-eye-view of Outreach teaching; each week I field requests from across campus and each week I receive reports from instructors about completed events. It is from this perspective that I want to mull over the purpose of Outreach, why we leave the comforts and resources of our Writing Center and its cozy satellites to traverse the UW-Madison campus (and it is not, I would point out, a small campus).
Just last week, I was asked to give a group of undergraduates (of whom, it turned out, not a single one had ever had a Writing Center appointment) an introduction to the Writing Center's services. I described our core beliefs; some reasons one might want to visit the Writing Center; our availability in person, by Skype, or by email; how to make an appointment; and some workshops we offer that this particular group might find helpful. In encouraging these students to make use of the Writing Center, my immediate goals were to give the Writing Center a face (my own) and demystify the process of making an appointment and attending a writing conference.
Not all of these students will make an appointment with the Writing Center this semester. Many may not even use our services at any point in their college career. The immediate goal of showing students how to use the Writing Center thus cannot be our only goal. Even in a 15-minute brief introduction (and to a greater extent in longer instructional outreaches) we have the opportunity to also affect the culture of writing on this campus outside of what goes on in our dedicated Writing Center spaces. We count on the often invisible changes such presentations make to student perceptions of writing and the Writing Center as what makes such brief introductions worthwhile. When students make appointments, we do not track how they heard about the Writing Center, so we have no record of whether brief introductions serve as a gateway, nor is our schedule generally open enough to warrant concern about advertising. We are seeking instead to foster a culture of writing across campus that views writing as a process which benefits from collaboration and discussion, that sees writing as a skill that takes practice in any discipline, and yes, that is also generally aware that the Writing Center is available to help. We balance our goals between bringing students in and sending writing skills, instruction, and community out.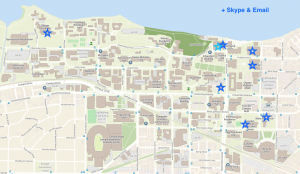 A study by Holly Ryan and Danielle Kane, recently published in The Writing Center Journal, provides quantitative evidence that brief introductions do indeed change student perceptions of the Writing Center, as long as the presentation uses active learning techniques [2]. In this experiment, the director of a small public university's writing center measured the impacts of three different forms of outreach upon students' perceptions of the writing center and likelihood of making an appointment—a podcast describing the writing center's services, a presentation on those services, and a demonstration involving a model writing conference—against a control group with no outreach. Of these forms of outreach, the second intervention aligns quite closely with the brief introduction that we commonly employ at UW-Madison.
Students who received any form of intervention were more likely to believe that the writing center could help them form arguments and write lab reports; this impact was greater with the demonstration than the presentation—possibly because the demonstration lasted 20-25 minutes, while the presentation lasted 8-10 minutes. While students who received the presentation or the demonstration self-reported a higher likelihood of visiting the writing center, limitations of the sample size and time span of the study prevented any conclusive findings on whether they actually visited the writing center at a higher rate.
These findings are an encouraging justification for the time and effort our Outreach team puts into brief introductions, both as standalone presentations (of 10-20 minutes) or as part of a longer, teaching outreach (e.g. a workshop on theses or personal statements lasting 45 minutes, which includes a presentation of the same information provided in a brief introduction). While our presentations have not, to my knowledge, generally included model conferences as demonstrations (though we may implement that proven tactic moving forward), we do endeavor to incorporate modes of active learning, ranging from answering questions and inviting brainstorming to leading peer review workshops and revision exercises.
Ryan and Kane's study sought evidence that students were brought into the Writing Center because of these presentations, but their findings also hint at that other goal of Outreach: sending a positive culture of writing out into the university community. If students view the Writing Center positively, then presumably they are somewhat persuaded by the ideals of the Writing Center, that writing is a process aided by discussion, etc. How, then, can we identify the benefits of such presentations for the university community writ large, beyond those students who make their way into Writing Center appointments? As a start, we can seek anecdotal evidence that such a culture exists.
Originally wanting to investigate the way students are brought into the Writing Center by Outreach presentations, I sat down with Emily Jaeger, a UW-Madison nutritional sciences major, who met with me in the Writing Center several times this summer after hearing a presentation I gave last spring. I thought I might gain some insight into what it is about our Outreach presentations that pushes students to actually make appointments; instead, Emily revealed a network of writers and writing activity beyond her engagement with the Writing Center, which had flourished in part because of what Emily had taken away from that Outreach presentation.
Last March, I led a workshop on personal statements for the Pre-Pharmacy Club at UW-Madison, which Emily attended. This, Emily said, got the ball rolling for her, because she had been more confident planning to study for the PCAT than planning how to write a personal statement; she jotted down ideas during the session, brainstorming what she might want to write about based on the models we discussed. In May, Emily started working on her personal statement in earnest. My presentation had included information about appointments with the Writing Center and Emily had made a point of asking whether we would be open over the summer. She emailed me in July to see whether I would be available, and we met three times to work on her personal statement. By the end of our work together, Emily felt ready to submit her applications (early, I might add).
According to Emily, the workshop was helpful because it gave her an overview of the genre, some samples to use as models, and an opportunity to brainstorm where she could begin. Emily told me, "Personally, I was really afraid of the personal statement," because it was such a new form of writing for her, but after learning about the genre and what was expected of the document, the workshop "made it a real thing." Our one-on-one conferences, meanwhile, gave her a push to get drafts and revisions done, a sounding board for which ideas represented her qualifications best, and confidence that she had created a strong essay. Emily's experience wonderfully reflects what we in the Writing Center aim to deliver in our workshops and one-on-one conferences, but she also reported benefitting from these experiences in ways we don't often consider.
Emily articulated an extensive network of mentorship and community that has surrounded her process of applying to pharmacy school. In addition to our appointments, she received guidance from alumni in her sorority, and was matched with a mentor already in the UW-Madison School of Pharmacy. She has also been passing on what she has learned about writing application essays to friends applying to medical school and pharmacy school, sharing and discussing the samples she'd received in the workshop and the notes she'd taken. Emily has been passing on advice to a younger woman in her sorority and, I'm delighted to report, has plans to pay the mentorship she has received forward after she starts her PharmD program in the fall.
Emily applied to three pharmacy schools, all nationally ranked in the top ten, and was accepted to all three. After graduating in December, she will begin the PharmD program at the UW-Madison School of Pharmacy next fall. She plans to apply for residencies in a few years, for which, Emily pointed out, the Writing Center will still be here if she needs help with those applications.
Emily's story quite perfectly encapsulates my goals for coordinating the Outreach program. It is fantastic that she came into the Writing Center because of that initial workshop, after never having had an appointment before. And I am proud to have supported her as she developed a strong personal statement clearly representing her experiences and goals, so that she was accepted into every school to which she applied. I am even more proud, though, that through that workshop and those conferences, Emily took the Writing Center back out into the university community, sharing advice, strategies, and models with her friends and colleagues. Those friends reportedly told Emily that they wished they had had the same workshop and conferences for their personal statements, suggesting that perhaps they will choose to make an appointment or come to a workshop in the future—or share the Writing Center's reputation for support with other students, who will tell their friends, and so on.
Not every student we speak to through Outreach will come into the Writing Center, and that is okay. I am confident that Emily is not an anomaly, and that we are building a strong culture of writing on this campus in ways we might never learn about. That, for me, is why Outreach is important. When we do Outreach, informing students of how the Writing Center can help them if they come into our regular purview, we also break down the walls that define the parts of the university that are spaces where writing happens and where the Writing Center philosophy of writing as process holds sway. We bring what is normally inside the Writing Center out to the rest of the campus for students like Emily to take up and spread even further.
Of course, there are additional goals of outreach that I have not had space to discuss here (e.g. modeling writing instruction for faculty and TAs, demonstrating the importance of writing in disciplines that have not traditionally emphasized writing, etc). And it is not just our Outreach team who works toward many of these goals—our online instruction, by Skype and email, also extends the reach of the Writing Center, making Writing Center work happen anywhere on campus that a student or online instructor might happen to be, limited only by their Internet connection. By way of conclusion, I'd like to invite the community that frequents this blog to think about the work writing centers can do to influence a campus culture of writing, and perhaps share your thoughts in the comments. What kinds of stories can you share that reveal additional means by which writing centers shape the way students, faculty, and the university as a whole view writing, beyond the writing conference?
Notes
[1] Throughout this post, I refer to the Writing Center (capitalized) as the specific program at UW-Madison, and use writing centers (lowercased) to refer to such programs generally. Similarly, Outreach is the program I coordinate at UW-Madison, while outreach refers to the work we do and that can be done on any campus.
[2] Holly Ryan and Danielle Kane, "Evaluating the Effectiveness of Writing Center Class Visits: An Evidence-Based Approach," The Writing Center Journal 34:2 (2015): 145-172.