By Gabrielle Isabel Kelenyi
What comes to mind when you think of the Writing Center? Perhaps you think of a place where you can receive help with your writing; a place where you can take your writing to the next level; a place where you can brainstorm ideas for a first draft, get feedback on a second draft, and put the finishing touches on a final draft… before submitting it to be evaluated by a professor, a TA, an admissions committee, a potential supervisor. That is, the Writing Center is typically thought of as a place where writers can receive short-term and long-term assistance with academic writing.

But what if the Writing Center could be more? What if it could be a place where all writers–students and professionals–could find community and support for their writing, whether writing is their passion, the bane of their existence, or something that vacillates in between? In my position as the TA Coordinator of Multicultural and Social Justice Initiatives, one of my goals this year is to expand notions of writers and writing across campus and beyond. As a firm believer in the power of not only writing but writing in community to build connections and enact change, I hoped to leverage this leadership position to begin to expand what the Writing Center is known for. I hoped to begin to transform the conception of the Writing Center from a center for academic writers and academic writing only into a broader center for writing. How to let it be known that at the Writing Center, we celebrate all writing and writers? Well, we can begin by celebrating and supporting writing and writers at every opportunity. It turns out that November gives us an excellent opportunity to do so because November is both National Novel Writing Month (NaNoWriMo) AND Academic Writing Month (AcWriMo)! What a perfect opportunity to build community with all types of writers, especially during a time of increased isolation and distance. Thus, with support from the Madison Writing Assistance Program and our friends in the Program in Creative Writing, we launched a month-long celebration of writing for NaNoWriMo and AcWriMo.
Our goals were straightforward but ambitious: we wanted to provide opportunities for writers to develop a writing habit, make progress on large writing projects, and develop a larger writing community or network. We shared tools and strategies to keep writing, advice and experiences from professionals about publishing, and ways to celebrate all types of writing wins. By celebrating NaNoWriMo and AcWriMo simultaneously, we aimed to engage various types of writers doing a variety of writing projects on campus and in the broader Madison community. We endeavored to build a community of writers writing, to help combat feelings of isolation and loneliness that can abound while trying to make progress toward large writing goals during this time of increased social distance.
This is the first year, to our knowledge, that the Writing Center has celebrated National Novel Writing Month or Academic Writing Month. Thus, it was important for us to start small with our offerings and establish a foundation on which to build in years to come. Additionally, the virtual nature of, well, everything and our intention to reach writers at all levels composing various types of texts with varying needs and desires meant that we had to get creative with ways to build a sense of community and share useful strategies and tools. We disseminated information to our registrants via weekly emails that included weekly word count updates, shout-outs, and reminders; a Pep Talk from other experienced writers to help continue writing; a schedule of writing events to participate in during the week; Weekly Writer Spotlights; and other ways to celebrate.
As of today, as a team, we have written 52,813 words, with more to come before the month is over. Registrants were provided with a personal word count tracking spreadsheet and a shared weekly goal sheet to be updated daily and/or weekly. And every Sunday morning, I sent out an email to all of our registrants with the week's Pep Talk and events. Pep Talks are inspirational messages written by experienced writers; they offer words of wisdom, motivation, and confidence. Our Pep Talk authors–Chris Chambers, Susanna Daniel, Gabriel Louis, and Dr. Kristina Huang–shared experiences, tips and tricks, strategies for when the writing gets tough, and inspiring ideas or insights. The format and content was up to the author, but the purpose was always the same: to encourage and inspire other writers. Check out our Pep Talks from each week here.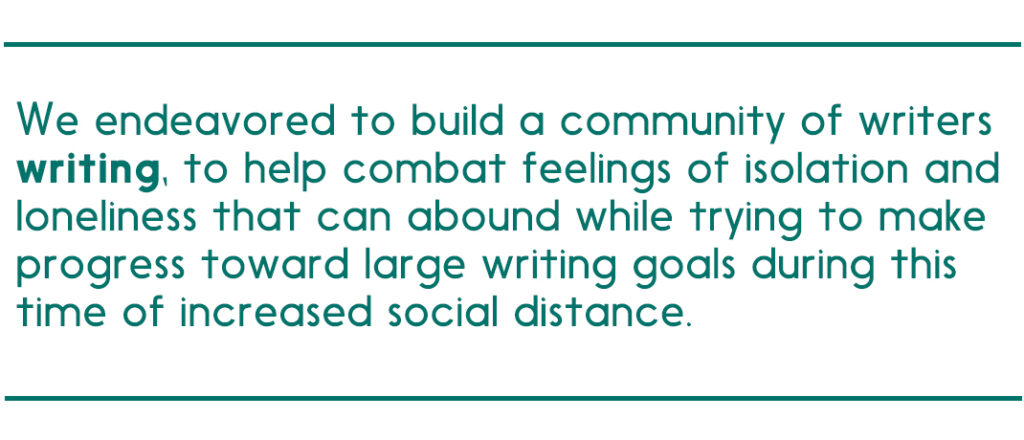 The main writing events each week were two writing sprints hosted by our amazing Writing Center career staff and TA leaders via Twitter. Writing sprints are timed bursts of focused writing that help writers get more words on the page. While writing is typically thought of as an endurance sport, a sprint here and there can help writers reduce instances of writer's block and overcome time constraints, thereby building more endurance. Various members of the Writing Center's staff facilitated these 25-minute sprints and provided optional prompts for writers in need of inspiration. These were opportunities to write with others, make and share progress, celebrate small victories, and schedule and protect pockets of writing time. They took place on different days at different times each week in order to accommodate a variety of schedules.
Our Weekly Writer Spotlights were special gems in each week's emails, putting faces on our participating writers and helping the team come to life. Participants could volunteer to be featured in our emails, on our NaNoWriMo and AcWriMo website, as well as on our social media by filling out a form that asked for a picture or two, what the writer was working on this month, and for the best piece of writing advice they've learned or been given. In this way, registrants were able to share the expertise and craft they brought to their writing projects with the other members of our writing community.
See below for our spotlighted writers. Each writer was asked to respond to the following question: "What's the best piece of advice you've received or learned through experience about writers and/or writing?"

Marilyn Sims
Apoorva Reddy

Marilyn is working on her new book with us during NaNoWriMo and AcWriMo!

Apoorva is working on a publication and drafting a project proposal as a part of our month-long celebration!

What's the best piece of advice you've received or learned through experience about writers and/or writing?

That there is nothing to it but to do it.

One quote that has inspired me while writing is the following by Calvin Coolidge: "Nothing in this world can take the place of persistence. Talent will not; nothing is more common than unsuccessful men with talent. Genius will not; unrewarded genius is almost a proverb. Education will not; the world is full of educated derelicts. Persistence and determination alone are omnipotent."
Katalina Lee
Shuqi Wang

Katalina is working on finishing a fictional YA [young adult] novel with us for NaNoWriMo!

Shuqi is working on a 2000-word paper for class with us for AcWriMo!

What's the best piece of advice you've received or learned through experience about writers and/or writing?

Creative writing wise, I've learned that it is okay to not know where the story is heading, and that making drastic changes to the story, even if it is a major plot change, is also okay! Growth and transformation is always natural, and do not be scared to change something just because the story has been progressing the same for so long.

Keep writing. Improvement is on the way.
Annushka Nenide
Quishanta Cary

Annushka is a 5th grader, and writing is one of her biggest passions📝! She has just started brainstorming ideas for her creative writing and drawing for NaNoWriMo. 😊

Quishanta is working on the introduction to her own book, an editorial research paper on gun violence, and other poems or short stories that come to her during NaNoWriMo and AcWriMo.

What's the best piece of advice you've received or learned through experience about writers and/or writing?

I have learned how to express my feeling and how to be really creative.🎨📝

The best piece of advice I could give anyone I guess would be if you may come upon and get Writer's Block don't fret, just write across the page line per line lots of different exclamation points until a word or/and letter pops in your head and write that down whatever it may be. If you get nothing else after that, start on something else like numbers or shapes till another word or/and letter pops up and continue to do whatever you have to do just, don't stop WRITING! This ALLLWAYS helps me out A LOT, but I rarely get Writer's Block because there's soooo much to write about, it's CRAZY!
Claudia Ramly
Livier Herrera-Crow

Claudia is working on their Main Area Paper, which is one of the milestones in their PhD Studies in Educational Psychology, with us for AcWriMo!

Livier is working on their memoir with us for both NaNoWriMo and AcWriMo!

What's the best piece of advice you've received or learned through experience about writers and/or writing?

Writing is an iterative process. Write everyday, the important thing is to show up even if you don't feel like it!

Be positive.
Other ways we tried to facilitate opportunities for writers to celebrate progress and share their writing were through our NaNoWriMo and AcWriMo banners, badges, and images; our Works-In-Progress Showcase; and our Madison Flash Fiction Showcase. A work-in-progress is an unfinished project that is still being added to or developed. It is imperfect, messy, and in-process. Through such a showcase, we hoped to normalize the idea that writing is a process that takes time, space, and collaboration, to celebrate progress, and to showcase individual writing processes in all their unique and personal glory. Our Madison Flash Fiction Showcase solicited short fiction from our registrants; we encouraged writers to submit an excerpt from a longer creative work, such as a sneak preview of a novel or an especially descriptive or riveting scene, or to submit a stand-alone personal essay or work of flash (aka short) fiction. We hope you use the link above to take a look at what one of our writers submitted! Finally, the culminating event of our month-long celebration of writing showcased what many think of as the end of the writing process: publication. Last Friday evening, we gathered on Zoom for an intimate discussion about publishing, featuring publishing professionals, Dennis Lloyd of UW Press and Alisa Plant of LSU Press, as well as professional writers and writing teachers, Susanna Daniel & Michelle Wildgen of Madison Writers' Studio, Steven Wright of Creative Writing & the Law School at UW-Madison, and Porter Shreve of Creative Writing at UW-Madison. Lloyd, Plant, Daniel, Wildgen, Wright, and Shreve spoke to the audience about the publishing process from start to finish, how to prepare a manuscript to be well-received, how to cultivate contacts and identify the right literary agent and publisher, as well as about other experiences and publication advice. See below for a screenshot of our panelists!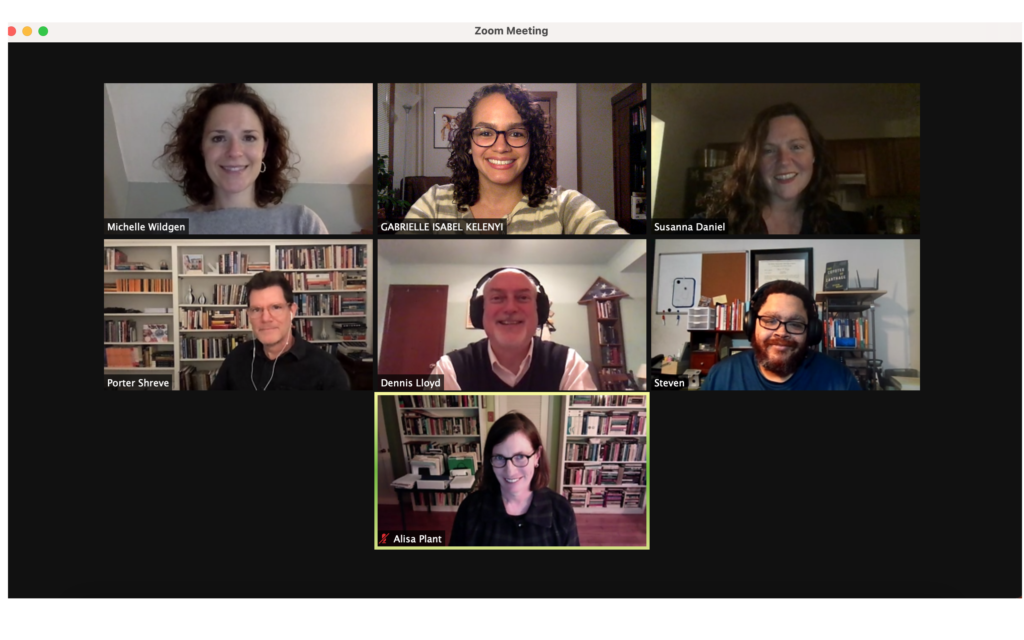 Our Writing Month Celebration, as it has been affectionately called, is coming to a close in just a few days. Have we expanded what the Writing Center is known for, transformed the conception of the Writing Center into a broader center for writing? I think our NaNoWriMo and AcWriMo celebration has been an excellent start, and it is a celebration the Writing Center plans to continue in years to come. We hope to improve upon what we started this year by, for example, including more ways for registrants to respond and add to our weekly pep talks, write in solidarity with one another via a shorter-term writing group, make writing sprints easier to access, and hopefully give more opportunities for writers to connect in-person when it is safe to do so once again. I'd like to sincerely, sincerely thank everyone who had a hand in making this idea of mine come to fruition, who added their own ideas and expertise to help NaNoWriMo and AcWriMo come to life. Specifically, a huge thank you goes out to Nancy Linh Karls for believing in this idea and encouraging me to go for it, to Jen Fandel for being a thought partner and a designer and an enthusiastic writer all month long, to Jenny Conrad for making our celebratory images and badges and for helping craft this post, to Angela Zito, Maria Mummert, Lisa Marvel Johnson, and Chrissy Widmayer for your ideas, support, and expert writing sprint hosting, and to the Madison Writing Assistance Program and the Program in Creative Writing at UW-Madison for their co-sponsorship of this event. An immense thank you, as well, to our participating writers, our panelists, and to everyone who attended the Publishing Panel! Without you all, our NaNoWriMo and AcWriMo Celebration would not have been the success it was. If our celebration has taught us anything, and if there's one thing we hope writers take away from the experience, it is that building a writing community and celebrating small wins and progress along the way make for a healthy, robust writing habit–no matter what you're writing. Thank you for being part of our writing community and participating in our celebration and support of writing and writers. This is just the beginning of our expansion, of our stretch to reach, include, and celebrate more writers and types of writing.
---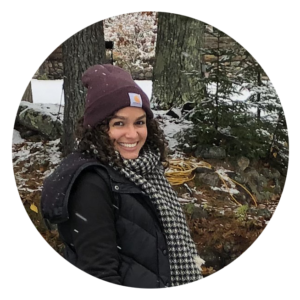 Gabrielle Isabel Kelenyi is the TA Coordinator of Multicultural & Social Justice Initiatives at the Writing Center. Gabbi is a PhD student in UW-Madison's Composition & Rhetoric program where she studies what helps people feel like writers. She is interested in culturally-sustaining literacy pedagogy, writing development across the lifespan, participant-centered and community-engaged qualitative methods, and multicultural and social justice writing program administration. Gabbi previously taught 9th Grade Composition in her hometown of Chicago, where she concurrently earned her MA in Teaching from Relay Graduate School of Education.