By Chrissy Widmayer
Looking back on the Writing Center's Fall 2020 semester, I am awed by all that we have been able to do. Alongside our students, we grappled every day with new challenges posed by the pandemic, adapting to an entirely online slate of services this semester, and sought to maintain the high level of professionalism we always offer. I am grateful for the patience our students have shown as we've adjusted to our new methods of teaching and so pleased with the reciprocal culture of care the Writing Center has fostered this semester. 
What strikes me the most is that the Writing Center did a lot more than just teach this semester—we also provided a space for community, which helped students and staff feel less isolated at a time of social distancing. We've heard from students and instructors alike that the Writing Center was a vital piece of their social and academic lives this semester, providing the extra support they needed to connect with their peers and discuss their work. While the Writing Center has always sought to build this sense of community, this semester has felt different in that forms of community have become more meaningful and powerful as the semester, and the pandemic, continued.
I am proud of the work the Writing Center staff and instructors have been doing behind the scenes. On top of offering important workshops and speaking in courses around campus through our Outreach and Writing Across the Curriculum (WAC) programs, we have also continued to grow our community connections through Madison Writing Assistance (MWA), which even caught the attention of Madison's mayor, Satya Rhodes-Conway, this fall and was featured in the City of Madison newsletter.
Beyond that, we have continued our commitment to incorporating social justice issues and goals into our pedagogy and culture, most notably through our Antiracism Standing Committee and Accessibility Standing Committee. This semester's ongoing education and professional development for our Writing Center instructors and staff focused largely on antiracism, and we are continuing to affirm our commitment to building an antiracist pedagogy and culture among all our staff.
So much of this work was possible only because we have a dedicated team of instructors, graduate TA leaders, career staff, and undergraduate receptionists, who have worked tirelessly to continue the Writing Center's growth and maintain its presence as a strong and meaningful space on and off-campus. I have been honored to work alongside so many incredible people over these past few months.
For this post, I asked our staff members and program leaders to take some time to reflect on the semester as an opportunity to highlight all the Writing Center has been able to accomplish and to suggest some goals and ideas for the future. Below, I'll let them share with you in their own words about the programs they have led. I trust you'll be as in awe of their work as I am!
Chrissy Widmayer
Assistant Director of the Writing Center at UW-Madison
---
Please note that the reflections below bring forward highlights and surprises of the semester and, in this effort, offer some windows into some of what our writing center is and does without attempting to represent every aspect of our work with writers and writing. We hope you enjoy these glimpses into our offerings!
---
Writing Mentorships
Our Writing Mentorship program gives students the opportunity to work with the same instructor on a regular basis (usually every week or every other week) over the course of a semester. Writing Mentorships are intended for students working on multiple papers, a master's thesis, a dissertation, or any other extended writing project. For the Fall 2020 semester, Writing Mentorships were held entirely online through Virtual Meetings or Written Feedback.

It is gratifying to hear from mentees about the impact that the program has had on their writing projects and academic careers. This year, one of our mentees said that their writing mentor "taught me in a way that created active changes in my writing style. I would start asking myself the same questions she asked me throughout the semester. I can see the progress in my everyday life."
A biomedical PhD student commented, "I thoroughly enjoyed my mentorship! I am so grateful to have been selected to participate. I was able to make tremendous progress on my thesis. While it didn't seem like it was possible at the mid-semester check-in, I am happy to say that I was able to achieve my goals I set out for my writing mentorship!"
A sophomore majoring in Computer Science explained that their Writing Mentorship helped to fill a gap in their virtual learning environment: "With all of my classes online, I didn't have many opportunities to discuss my class's material with others. This writing mentorship gave me an opportunity to discuss the course material with someone who was also interested in the subject, which helped me articulate what I learned in the written assignments."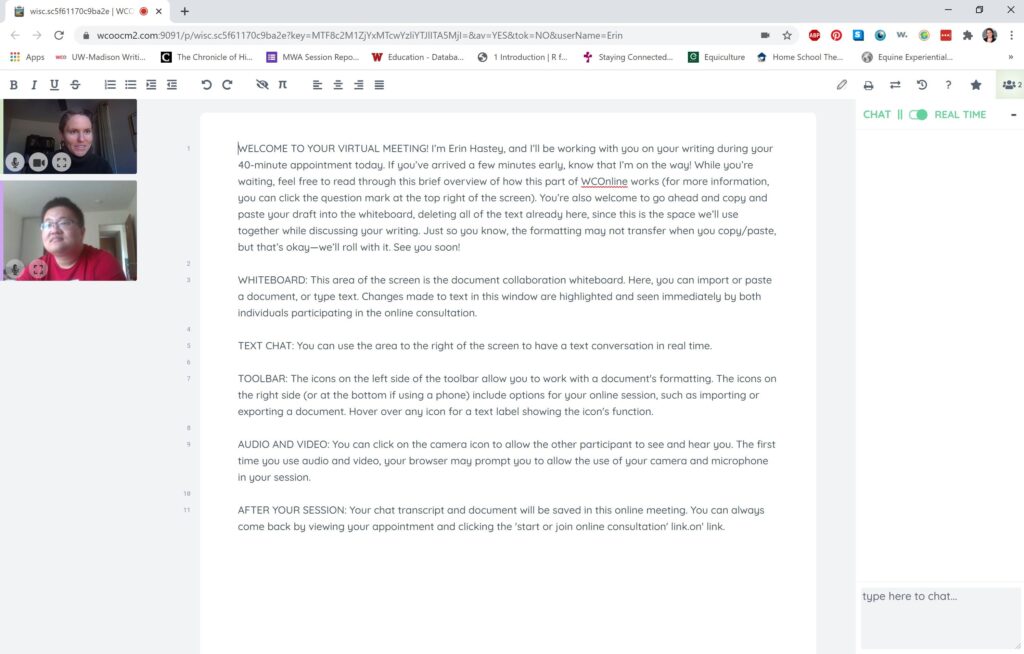 For next semester, I'm eager to explore how we can partner with organizations across campus to ensure that our mentorships are serving students from all parts of campus, and in particular, BIPOC students. I also am excited to fine-tune the Writing Mentorship program. I want to make things more streamlined behind the scenes and tweak aspects of our program as I continue to learn about the needs of students and instructors. Special thanks go to Chrissy, the Assistant Coordinator of Writing Mentorships, for her guidance and assistance this semester, and next, as we tackle this important part of the Writing Center's mission to build productive learning relationships between instructors and students.
– Lisa Marvel Johnson, Faculty Associate in the Writing Center, and Writing Mentorship Coordinator
---
Workshops
Every semester, the Writing Center offers over 50 workshops, which are short, non-credit classes that cover a wide variety of writing-related topics—from writing literature reviews and professional emails to working on timed essay exams and thinking through diversity statements for the academic job market. Our workshop programming reaches undergraduate and graduate students, faculty and staff, as well as alumni and off-campus community partners.

This fall, we implemented a new system for hosting virtual workshops synchronously while simultaneously archiving instructional material for asynchronous access by workshop participants. This system has made our workshop services and resources much more accessible for UW-Madison writers—wherever they are. Our workshops are widely publicized through email, social media, our website, and the university events calendar.
– Angela Zito, Faculty Associate in the Writing Center
---
English Language Conventions Workshops
This fall, I facilitated new versions of all of our workshops related to English language conventions (Grammar 1 & 2, Punctuation.?!, and our Improving Style Series). These workshops built on each other in sequence but also worked independently, allowing students to get the most of the workshops that were the most relevant to their goals. Each workshop included big-picture considerations for framing discussions, presentation of information, concrete strategies and resources, hands-on practice, and a Q&A period.
A highlight of the semester for me was the level of student engagement in the English Language Conventions workshops. In evaluations, a student noted that "fun examples" helped them "to be engaged throughout," and another mentioned that the workshop "inspired us to actively participate in the conversation." My brain absolutely loves wrestling with questions on grammar and conventions for which I don't have obvious or immediate answers. In these workshops, students delivered plenty of these questions! In evaluations, students shared that they appreciated "the ability to ask questions and get them answered as we went along."
In future semesters, I'm excited to continue developing the Writing Center's offerings of workshops that support students by helping them feel confident about adhering to (and challenging) English language conventions. I also look forward to creating materials that help instructors to think critically about their notions of English language conventions.
– Dottie Mayne, Faculty Associate in the Writing Center
---
Anti-Racism Standing Committee
The Antiracism Standing Committee aimed to review the Writing Center's efforts at inclusion, social justice and, most specifically, antiracism in order to set priorities for the Writing Center in becoming more actively anti-racist.
The committee got off to a strong start with some challenging work, thoughtful planning, and conscientious organizing through shared leadership. Specifically, this took the form of facilitating educational and interactive staff meetings; gathering perceptions, experiences, and ideas from staff members; and organizing information into priorities for this semester and beyond.
A highlight of the semester came during our most recent staff meeting, which focused on anti-racism in the Writing Center. By foregrounding the voices of instructors of color, we were able to learn more about the racialized experiences of staff members. It was eye-opening and grounding to understand where staff members are coming from in approaching antiracist work.
Social justice work can be messy, and we still have a long way to go as we undertake the appropriate personal and professional growth necessary to achieve great things in this area. Determining that our priorities as a committee are achievable with some effort and organization! I'm excited to continue working with the committee to help the WC be the WC it wants to be!
– Gabbi Kelenyi, Coordinator of Multicultural & Social Justice Initiatives, and Maria Mummert, Faculty Associate in the Writing Center
---
Multicultural and Social Justice Initiatives
This semester I began gathering faculty writing profiles for cultural heritage months. A goal of this project was to shine light on specific communities of writers and their writing in order to help student members of those communities see themselves more clearly as writers and to help elucidate the value of writing in their lives and aspirations. This past fall, we celebrated Latinx Heritage Month and Native American Heritage Month (see gallery below for some spotlights from our Instagram).
I've been surprised by the support and interest from faculty members in cultivating a more robust culture of writing at UW-Madison. It's always a wonderful surprise when professors are not only willing to participate but also put a lot of thought, effort, and care into their responses by going the extra mile to share pictures, draw their unique writing processes, give advice, and share examples. It makes writers and writing—not to mention faculty members who we admire—more human.
A highlight of this project involved seeing responses to these social media posts that indicated viewers were learning new writing strategies, reconceptualizing pieces of their projects, and feeling seen, understood, and capable as writers. I'd like to give a special shout out to Sarah Olson, the designer behind all of the social media posts to celebrate each heritage month. They are so incredible and accessible, and I really appreciate her partnership on these posts!
Next semester, I'm looking forward to continuing to expand conceptions of writers and writing by celebrating other heritage months. Next up: Black History Month in February!
– Gabbi Kelenyi, Coordinator of Multicultural & Social Justice Initiatives
---
Writing Groups
Each semester, the Writing Center offers a variety of weekly writing groups for graduate and undergraduate students. Every week, facilitators guide groups of up to 30 students through goal-setting exercises and, during opening and closing sessions, briefly discuss topics such as writing tips and tricks, self-care rituals, strategies for soliciting and using feedback, and time management. This fall marked our first semester of all-virtual offerings.
This was my first semester organizing the writing groups, and I've really enjoyed seeing how much the groups offer students and facilitators. Writing groups offer a chance to form a community with other writers and to support each other: something that feels especially important in this time of remote learning. This fall, I've loved catching little glimpses of facilitators' individual styles—and I've appreciated the creativity that goes into planning and carrying out these weekly groups.
We're excited to think about the ways that we can adapt and customize our writing groups in the spring to fit not only facilitators' preferences but also students' interests. I'm hoping that we'll be able to develop descriptions, similar to those that we write up for workshops, and allow students to register for the group that most closely aligns with their interests and learning/writing style.
– Jennifer Conrad, Faculty Associate in the Writing Center
---
First-Year Writing Support Group
The idea for a First-Year Writing Support Group came from considering the challenges that many of our first-year students experience in developing meaningful connections and finding mutual support, particularly with the transition to college taking place in an all- or mostly virtual environment. This group sought to offer time and space for incoming students to connect with each other on college writing and other topics.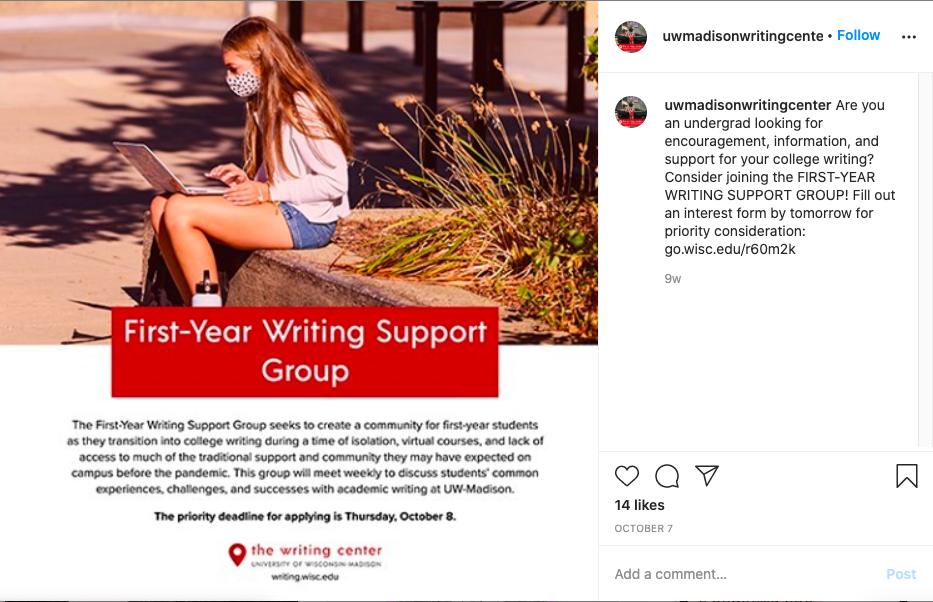 The highlight of facilitating the First-Year Writing Support Group has been my in-depth conversations with first-year students about their experiences. I've also enjoyed seeing them connect with each other. Most participants felt motivated to join the group so they could meet and socialize with other students and, while the university is engaged in online learning, they saw this group as one of their only opportunities to do that.
Several students in this group were based internationally and participated in the middle of the night. They had to be awake for other coursework taking place (e.g., synchronous quizzes) and wanted to take advantage of any opportunity to connect with other students at UW-Madison. For some students this fall, the First-Year Writing Support Group has been their only chance to have a live conversation with another student.
– Dottie Mayne, Faculty Associate in the Writing Center
---
Madison Writing Assistance
The Madison Writing Assistance (MWA) program offers free, one-to-one writing support for Madison-area community members, traditionally at libraries and neighborhood centers throughout the city, and now online. Our instructors help people with their writing across a wide range of genres, including resumes, cover letters, application essays, grant proposals, creative writing, and life writing.

This fall, MWA worked very closely with coordinators at Madison Public Library and Common Wealth's "Job Shop" program (generously hosted through Meadowood Neighborhood Center) to ensure that our remote services are widely publicized and broadly accessible. Our staff of seven instructors has provided support to nearly 100 writers throughout the Madison community via phone, video, and email, often following up with many of these writers to continue conversations through additional visits. Jane Jorgenson, Supervisor of Hawthorne and Pinney Libraries, recently said the following about our program: "MWA writing assistants not only cover the spectrum in terms of writing projects; resumes, papers, applications, essays, personal histories to name a few, but do so with understanding and patience that accepts all projects, needs and capabilities. They have been an invaluable resource and partner for our organization." In addition, Madison Public Library published an "Impact Story" on MWA earlier this fall.
While we're continually seeking new and more effective ways to connect neighbors in our community with MWA, it's been hugely encouraging and energizing to see dozens of questions and appointment requests come through from writers each week. We are connecting! And our instructors share that they benefit from these connections as much as our writers do: MWA has been a highlight in their professional lives this semester because of the opportunities for conversation and sense of purpose within the community that this service affords.
I'm excited to further develop both long- and newly-established relationships with our community partners across Madison, specifically so that MWA can support families and individuals as they continue to navigate pandemic life.
– Angela Zito, Faculty Associate in the Writing Center, Interim Director of Madison Writing Assistance
MWA services are made possible through generous donations from the Evjue Foundation, the UW Anonymous Fund, and Altrusa International of Madison, along with administrative and program support from the UW-Madison English Department, the UW-Madison Writing Center, and our library and neighborhood center partners.
---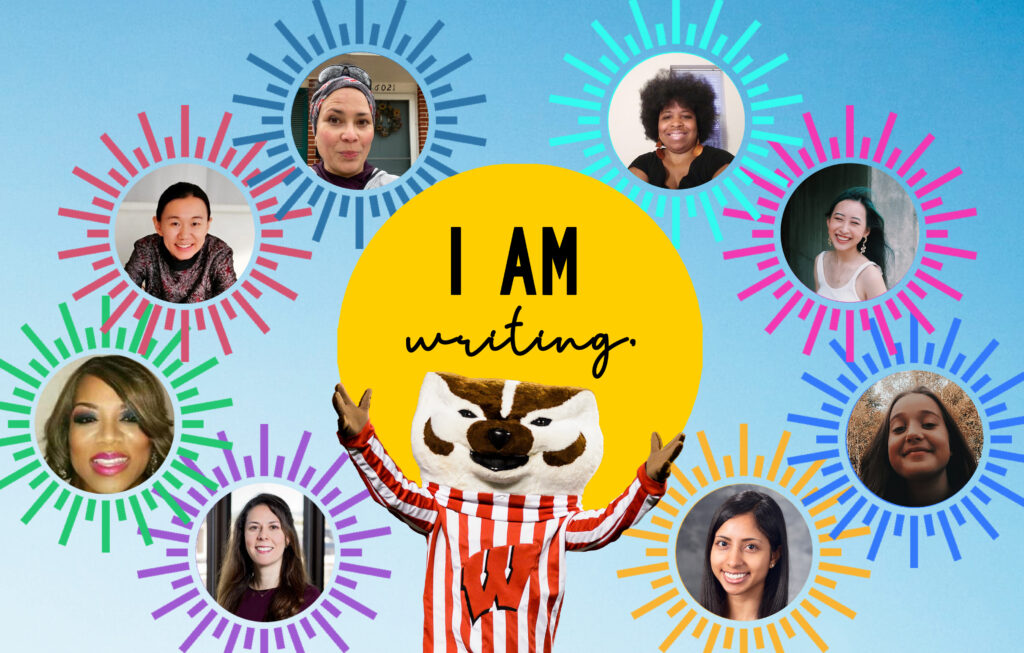 NaNoWriMo and AcWriMo
November is both National Novel Writing Month (NaNoWriMo) and Academic Writing Month (AcWriMo), and this year was the first time the Writing Center celebrated them! Members from various teams and programs within the Writing Center and the English Department at large came together to make a whole month of activities happen that brought campus and community writers together to write. We had over 80 participants who set goals, participated in writing sprints, tracked their word counts, and celebrated writing together!
The highlight of the semester for me was the Publishing Panel with campus and community writing professionals. It was an intimate and informative experience, and it was wonderful that the panelists donated their time to help aspiring writers learn more about publishing!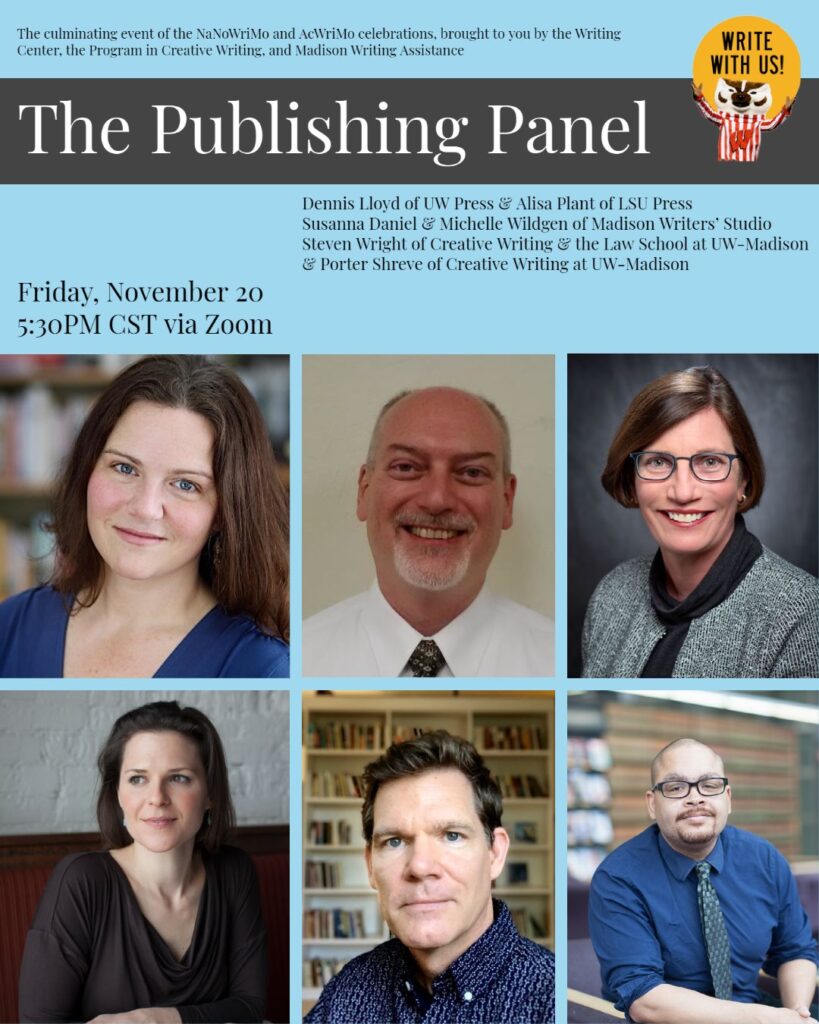 The biggest surprise from NaNoWriMo/ AcWriMo was the number of young writers (12-14 years old!) who participated and worked together to write novels! These young writers are the ultimate inspiration!
NaNoWriMo and AcWriMo would not have been the success it was without the support and enthusiasm from WC Academic Staff and TA Leaders and without the bravery and motivation of our participants.
I hope to organize something similar for National Poetry Month in April!
– Gabbi Kelenyi, Coordinator of Multicultural & Social Justice Initiatives
---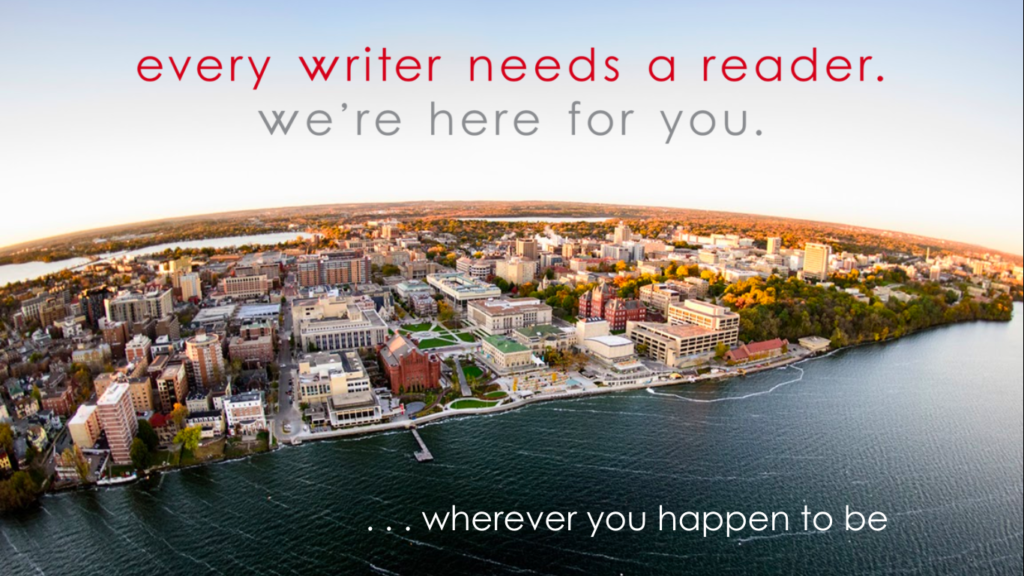 The Writing Center's Outreach Team
The Outreach Team, which is usually composed of five to eight graduate instructors, plus the Outreach Coordinator, advances the work of the Writing Center and Writing Across the Curriculum across campus by partnering with numerous programs, instructors, and student groups each semester. This fall we participated in over 60 events: from virtual orientations and introductions designed to raise awareness of Writing Center services to mentoring sessions at study jams, to tailored instruction and workshops on a variety of writing subjects. Our team taught jointly with instructors from Engineering, History, Pharmacy, Education, Veterinary Medicine, the Graduate School, and the McNair Scholars program, to name just a few of our campus partners.
Our dedicated instructor team, as well as the WC leadership team and faculty associates who also participated in Outreach events, did an excellent job of adapting to a complex set of circumstances this semester. Given the nature of Outreach work, we always encounter requests for many different types of events, each of which requires thoughtful consideration for how to best meet the goals of our campus partners. This semester we faced the additional challenge of successfully converting all of these different kinds of events to fully online settings, as well as responding to some completely new kinds of requests for recording and distributing materials. Based on partner feedback, our team rose to the challenge admirably.
I've been engaged in Outreach work for a few years now, and in that time I've worked with many groups across campus and several incarnations of the Outreach team on lots of unique events. As an outreach instructor, you quickly learn not only that each event will have its surprises but also how to take these in stride, weaving them back into your outreach as they arise. Given everything going on in the larger world right now, I would say I'm surprised that there weren't any bigger surprises this past semester.
I'm happy to say that we are in the process of formulating some big plans for the future of the WC's Outreach program. Outreach work is constantly evolving, and while tumultuous times bring new challenges, they also bring new opportunities. Going forward into the spring (and beyond), we are thinking about ways to expand our support of graduate student professionalization, strengthen our role as a bridge between the Writing Center and Writing Across the Curriculum Program, and continue to grow our partnerships and audiences across campus. We'll be sure to keep everyone informed as these plans develop!
– Ryan Holley, Coordinator of Writing Center Outreach
---
The Writing Fellows Program
Our undergraduate Writing Fellows are placed in courses across the curriculum to provide feedback on students' papers in the form of both written comments and synchronous conferences. Fellows work with 8-15 students per semester and collaborate closely with faculty members in their assigned courses.
This semester, we had around 45 new and returning Fellows. New Fellows take English 403, our honors seminar in tutoring across the curriculum. Returning Fellows participate in ongoing education programming throughout the semester. This fall, all of our operations have been online, including the Fellows' conferences with students. We ask the Fellows to hold video conferences whenever possible, and most have chosen to use Zoom. We have also been encouraging Fellows to offer compassion and flexibility to both themselves and their students during this extremely difficult school year.
A highlight of the semester has been seeing how Fellows have shown willingness and flexibility in the process of moving their work online. Even though many have shared that they miss conferencing with students in person, they rose to the challenge of adapting to new conferencing formats and contexts. They have impressed us with the ways they are showing compassion and offering flexibility to students in difficult circumstances. They have also really stepped up to support each other! We've learned so much from what they have done this year. It's been a powerful lesson in not giving up on our missions even when the pace of change around us feels overwhelming. Watching the Fellows work this semester has only strengthened our belief that peer collaboration is core to students' learning and to working for social justice. We've learned this semester that compassion is the basis for all that we do.
Earlier this semester, I recorded a presentation for the National Conference on Peer Tutoring in Writing (NCPTW) on the ways that trauma-informed practices can be implemented in writing centers. During the ongoing education sessions I hosted for our Writing Fellows in the following weeks, I learned that they were already thinking about and using all the practices I recommended in the presentation. Fellows are our greatest sources of knowledge, and I'm so excited to work with them as we re-imagine what learning can look like after the pandemic has passed.
Next semester, I am most excited about leading ongoing education sessions for all of our Fellows. These are collaborative spaces in which we talk through both conferencing strategies, the big-picture goals of our work, and the ways they are linked through praxis. I'm particularly looking forward to collaborating with Fellows to integrate antiracism and social justice practices into our program at every level.
I think that Writing Fellows have helped many students feel less isolated this semester and provided that sense of connection that is so important to learning. I believe that Writing Fellows aren't just additions to a course or to students' experiences but end up becoming core to those experiences. And Fellows end up growing as learners, writers, and teachers in profound ways!
– Brenna Swift, Assistant Director of the Undergraduate Writing Fellows Program
Note: the image at the top of the post shows Here's Amanda Pratt working on a fellowship application with Anthony Hernandez, a doctoral candidate in Educational Policy Studies.