Introduction: On Writing Center Work and the Big Picture
Hello from the UW-Madison Writing Center as the summer term begins! In this uncertain time, we have both continued to serve our students and considered the ways our work might fit into the big picture—of a transformed world, of education for social justice, and of new practices in teaching of writing. As one of the assistant directors of the undergraduate Writing Fellows program and an instructor for English 403, our peer tutor education class, I have found myself thinking more about how undergraduate research advances our understanding of that bigger picture. I would like to share this post as a way to both showcase undergraduate research and consider how it can contribute to change, lighting a path forward into our work.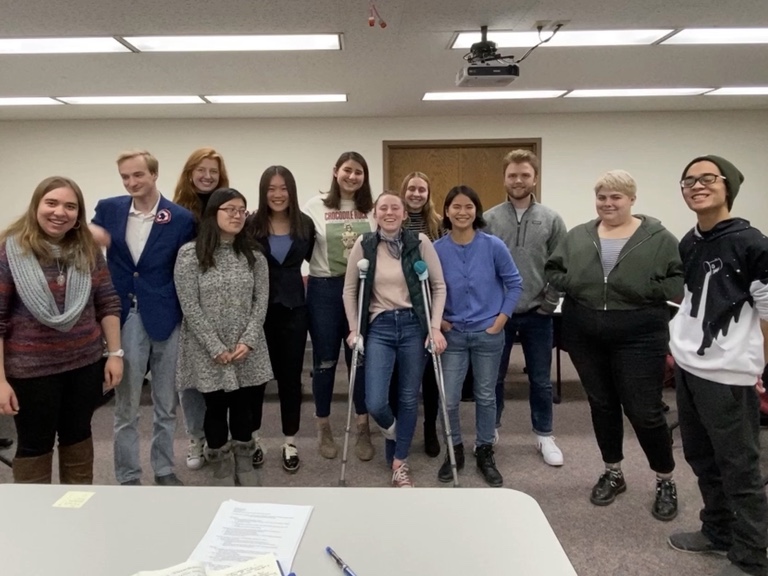 To help frame the conversation, I'll begin by drawing some connections between writing center work and the theories of the Brazilian educator Paulo Freire, which reveals how doing original research can be empowering for learners and communities. I'll then "open up the floor" to Writing Fellows themselves, who have generously shared their own perspectives on their recent research experiences with me (responses have been edited for length).

Peer Collaboration, Research, and Critical Consciousness
Each year in English 403, the Seminar on Tutoring Writing Across the Curriculum, new Writing Fellows here at UW-Madison discuss Freire's evocative definition of the "banking model" of schooling. According to Freire, the founder of the critical pedagogy movement, the banking model treats learners like empty vessels to be filled with bits of knowledge from a "bank-clerk educator" (76). Knowledge given out by this bank-clerk educator is fragmentary, leaving students without a full picture of the world or the opportunity to tell their own stories. The end result, Freire wrote, is oppression—a system of education that "fits" students into society without the chance to reshape it (76).
Freire's theories seemed to resonate deeply with the new Writing Fellows I taught in English 403, a course they take while beginning their work as tutors. We identified examples of the banking model from our own educational experiences—tests that ask us to regurgitate decontextualized facts, textbooks that present dominant narratives as truth when in actuality there are many stories to be told.
Freire offers us some useful insights into the ways that peer collaboration can resist the banking model. In fact, his thinking influenced the development of writing centers (Hobson) and has more recently informed antiracist approaches to writing center work (e.g., Diab et al.; Greenfield and Rowan). In Pedagogy of the Oppressed (first published in 1968), he explained how learners can transform the world through praxis, a cycle of theorizing, reflecting, and taking action through language. In Freire's model of praxis, teachers guide students in problem-posing—the process of raising questions about their world and collaboratively investigating those questions. Their dialogue generates new understandings and new stories; students come to see that oppression is not the natural state of the world but a social construction subject to change. This perspective is what Freire called conscientização, or critical consciousness (35).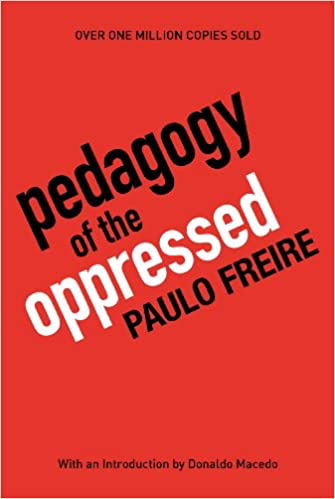 Freire's definitions of praxis and critical consciousness can also help us understand the power of undergraduate research in writing center work. It's important to note that Freire, whose pedagogy was developed for impoverished adult learners in Brazil, was working in a far different context from tutor education classrooms in the United States. Some educators have argued that mainstream critical pedagogy approaches in the U.S. have ignored racial inequality (Ellsworth) or watered down the radical potential of his theories (Darder). However, I think we can build on the radical potential of Freire's work whenever students create knowledge collaboratively and when they use that power to question the systems of racism and ableism that operate in education.
Building that critical consciousness is one of our goals in training Writing Fellows to work with peers and in assigning a semester-long research project in English 403. For their projects, students investigate topics of their choice related to the tutoring or teaching of writing. In a process of problem-posing, they develop an original research question, synthesize secondary sources, collect their own data through interviews or surveys, and make suggestions for change. This is one example of praxis, a way for new stories to be written in writing center studies.

Writing Fellows Share Perspectives on Research and Knowledge-Building
In Freire's model for critical pedagogy, dialogue with other learners is crucial to knowledge-building. Each year, to provide more opportunities for dialogue between members of our writing center community, we invite some Writing Fellows to share their original research projects with other Fellows and graduate student teaching assistants. Here are the Writing Fellows who shared their research this year, along with the titles of their presentations:
Lily Campbell, "Anti-racism in Writing Assessment at UW-Madison"
Ethan Dickler, "The Writing Experiences of Transfer Students at UW-Madison"
Collin Dott, "Listening and Non-Directive Tutoring"
William Kamm, "Intersection of the Generalist and Specialist: Effective Tutoring in STEM Genres"
Adrienne Oliva, "Negotiating Pronouns and Social Justice in the Writing Center"
Madeline Peterson, "Using Preparation Time to Prioritize Meaning in the Peer-Tutoring of ESL Texts"
Berit Thorson, "Writing and Self-Efficacy in Postsecondary Correctional Education"
Thea Valmadrid, "Bridges of Support: Investigating the Experiences of Female Asian American Tutors to Support Tutors of Color"
In the weeks that followed their presentations, I asked Writing Fellows to share their perspectives on the process of problem-posing, researching, and engaging in conversation with audience members. I was impressed by the degree to which Fellows used their projects to question the norms behind exclusion in our spaces. For example, Lily Campbell, a Fellow majoring in English, chose to investigate how writing assessment perpetuates racism and linguistic oppression. She interviewed professors about their views and ultimately built a powerful argument against assessment practices that uphold white linguistic hegemony (Inoue). After her presentation, she described how doing original research had fundamentally changed her own role as a learner—and how presenting her work pushed her thinking even further:
When this project was first introduced in English 403, I was nervous about conducting my own research because I didn't feel very qualified to be interviewing people and drawing my own conclusions from that data…But once I started reviewing literature about my topic (anti-racism in writing assessment), I realized that I was capable of using those frameworks to design a research approach that would allow me to uncover and analyze data about my topic, which led to a sense of increased agency and confidence in my ability to participate in academic discourse.
Presenting my research at the meeting was an awesome experience because it allowed me to re-engage with my project after I had spent some time away from it…I think the best part of presenting was fielding questions from the audience afterwards because I got to use my knowledge base to quickly contextualize and consider new implications about my research. For example, someone asked a question along the lines of how anti-racist writing pedagogy can apply to STEM since those genres are often much less receptive to differences in writing style. I had a great time answering that question because it forced me to apply the conclusions of my research to a discipline where the entrenched norms of discourse make challenging style and assessment expectations difficult, and working through that problem helped me think about my research from a different angle than what I'd started with.
As Lily's instructor for English 403, I saw how her project both deepened her own awareness of linguistic oppression and invited audience members into the kind of dialogue that can build critical consciousness. Developing critical consciousness often shifts our understanding of our own identities. For example, Ethan Dickler, a Writing Fellow majoring in English, found that his research project on transfer students helped him better understand his experiences as a student who transferred to UW-Madison from another campus. By interviewing peers, he found that some transfer students shared his sense of being excluded or "othered." He described how conducting his research and engaging his audience was a process of intellectual growth that was at times challenging and at times exhilarating:
I found myself learning how to actually do the research while it was happening, so there was a steep learning curve…The presentation went very well for me. I practiced every night for about a week and the first session went well. I got several laughs during it and so many questions…I got the sense that if I had a lot of questions, it meant that people were actually interested in what I had to say.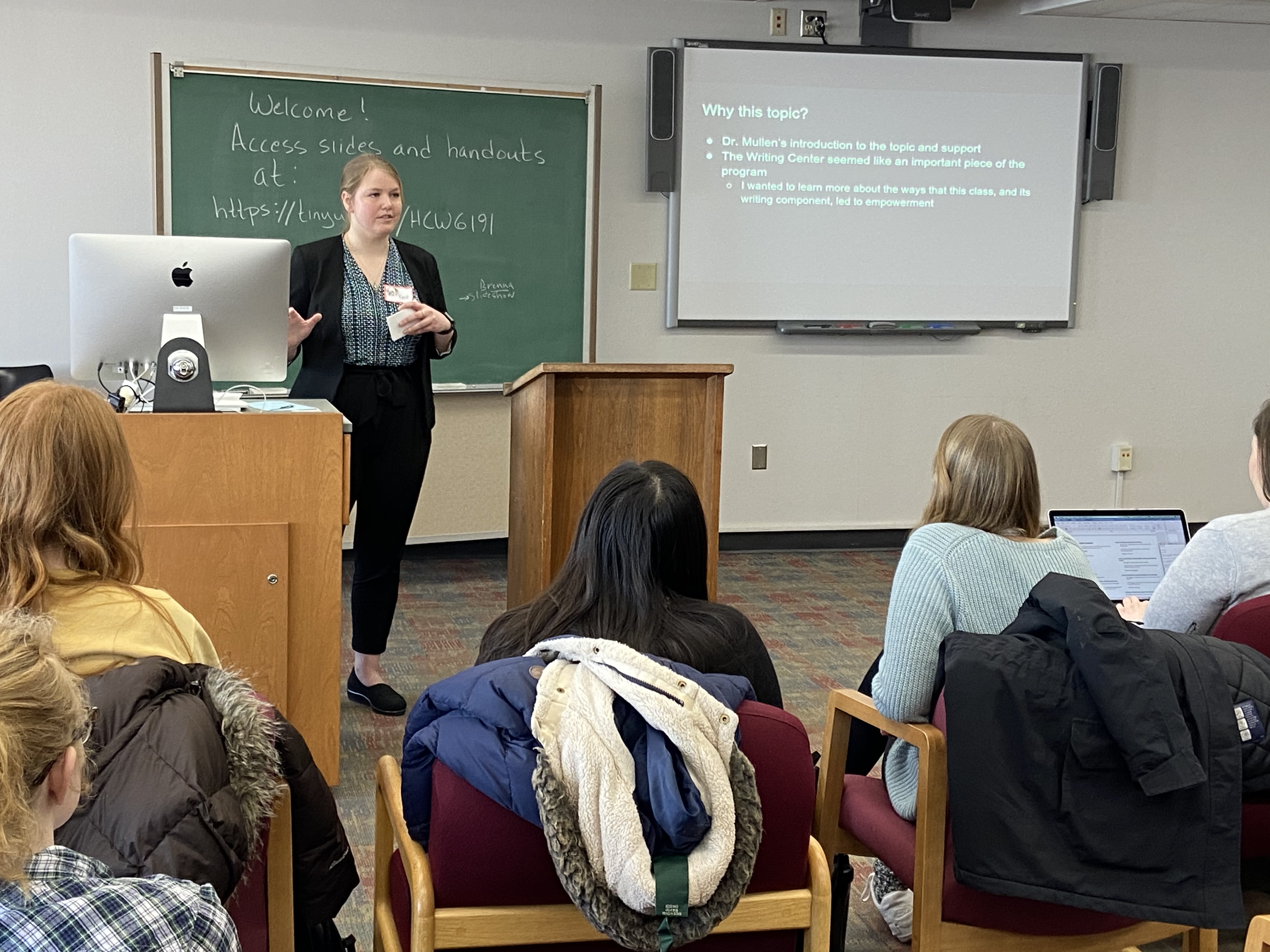 Graduate student teaching assistants who attend Writing Fellow presentations often come away with new ideas for their work. Mike Haen, a Ph.D. candidate in composition and rhetoric who also served as a moderator for presentations, shared how the Writing Fellows' projects have informed his own thinking:
We tend to think about serving all students, which perhaps leads us to miss specific needs of particular groups. I had a chance to moderate presentations by Ethan Dickler and Will Kamm, who discussed the experiences of transfer students (Ethan) and some of the needs of STEM writers (Will). While I have thought a lot about how to support STEM writers because of my work as an administrator in the Writing Across the Curriculum program, I had not thought much about transfer students. Both presentations sparked thoughtful questions and discussions from writing center instructors, and I think our center can do more for both groups of students. I thought those presentations were solid starting points for longer-term discussions.
Starting long-term discussion was also the goal of a project by Thea Valmadrid, a Writing Fellow who interviewed Asian American Fellows and Writing Center teaching assistants. She found that greater attention to the experiences of marginalized Fellows and TAs is needed in our tutor education programs. Erica Kanesaka Kalnay, a Ph.D. candidate in literary studies who moderated presentations by both Lily and Thea, describes the impact of their work below:
It was wonderful to see such engaged undergraduate students thinking critically about the institution we inhabit while offering up their ideas for transforming it into a more inclusive and equitable place. This made me think about how vital a role undergraduate student teaching and research can play even in a large university like ours. As an Asian American woman and longtime Writing Center tutor, I was especially proud to moderate as one of my former Asian American Studies students [Thea] presented her research on the experiences of Asian American women tutors and fellows. She was able to take her classroom knowledge and use it to cast light on perspectives that I think our program has not fully considered.
Erica's words have caused me to further consider how we can engage in reflection, dialogue, and changemaking every day in our work in writing centers, whether we serve primarily as tutors or administrators. Praxis in a time of deepening inequality never has an end point; the process of transformation in our spaces must be ongoing.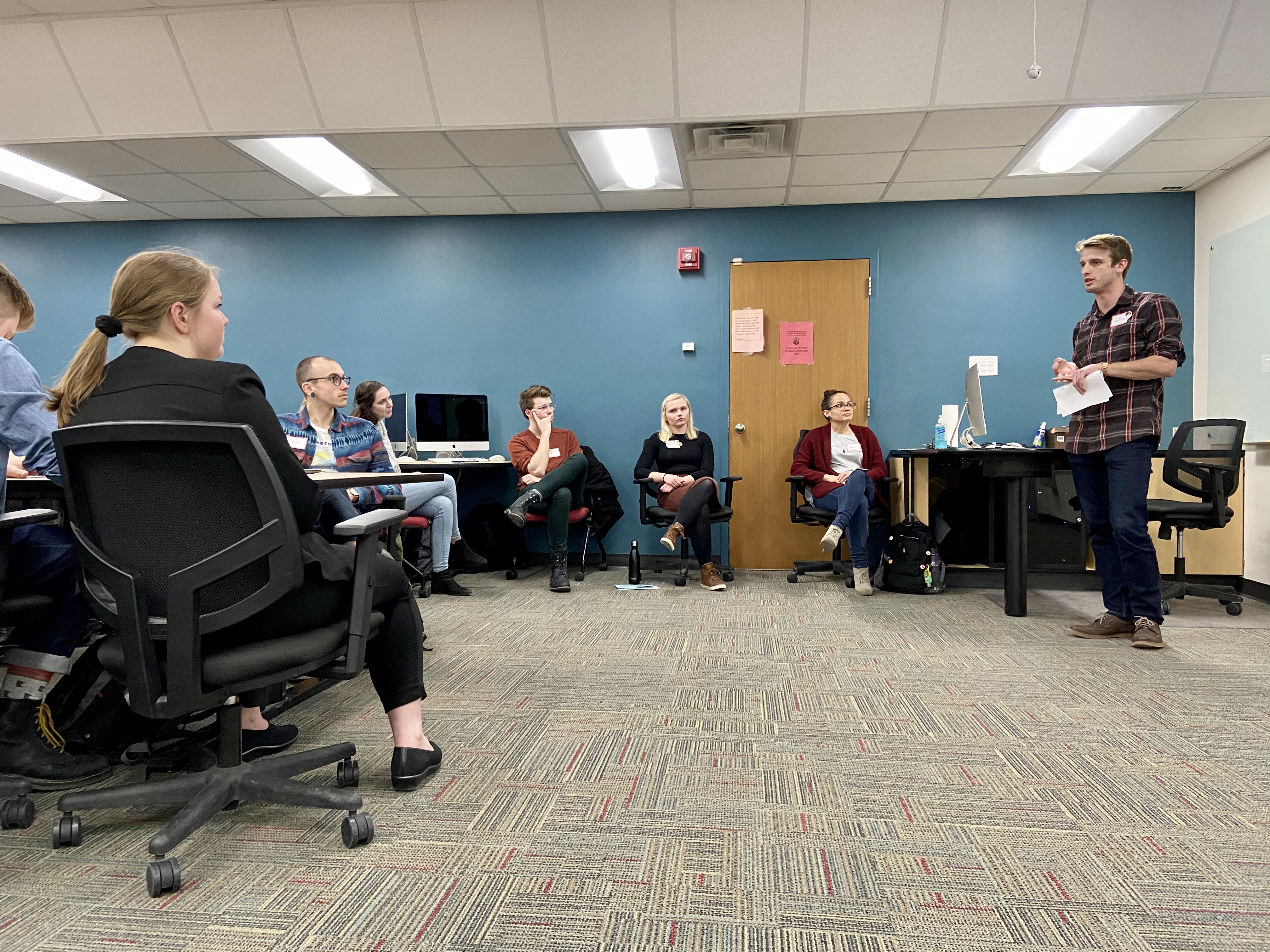 A Call to Action
By way of concluding this post, I'd like to share some thoughts from Berit Thorson, a Writing Fellow whose research project focused on the Odyssey Beyond Bars project at the Oakhill Correctional Institution. Odyssey Beyond Bars is a prison education program incorporating composition courses and writing center tutoring. Berit surveyed students who took composition courses with Odyssey Beyond Bars and found that they gained a sense of confidence through their writing. Berit, who is majoring in philosophy, sociology, and environmental studies, had this to say about her growth as a researcher and the importance of education in our current time of crisis:
At first, doing original research was pretty intimidating. Once I started doing it, with the help of some wonderful mentors, I felt much more confident. I underwent a similar process before presenting. I was terrified to present, but once I started, that fell away because of my passion about my topic….
I don't think that my perspective on my research has changed that much [since my presentation]. I read somewhere that they're paying New York inmates from Rikers Island $6/hour to help dig mass graves, and I thought about all the ways that we fail to treat incarcerated individuals as humans. I am horrified by that. So I think that this has reinforced for me just how important education is in helping prisoners to recognize themselves as still human and still valuable. It has reminded me that correctional education matters for more than just the educational value. It matters because it makes a difference in people's lives.
I find Berit's words powerful because they suggest that education for social justice has become an even more urgent project and that now more than ever, we must act on what we find in our research. Berit's work also suggests the need for writing center practitioners to continue thinking beyond our own walls to how we are connected with our communities. Research projects done on our campuses are only the beginning; writing center researchers must continue to seek out voices that have traditionally been excluded from our spaces and collaborate to question the systems of power that keep it that way (Ozias and Godbee). As Freire said, it is time for us to work together, "name the world" (88), and write a new story.
Acknowledgments: Thank you to Emily Hall, director of the Writing Fellows program and interim director of Writing Across the Curriculum at UW-Madison, for her thoughtful feedback on an earlier draft of this post!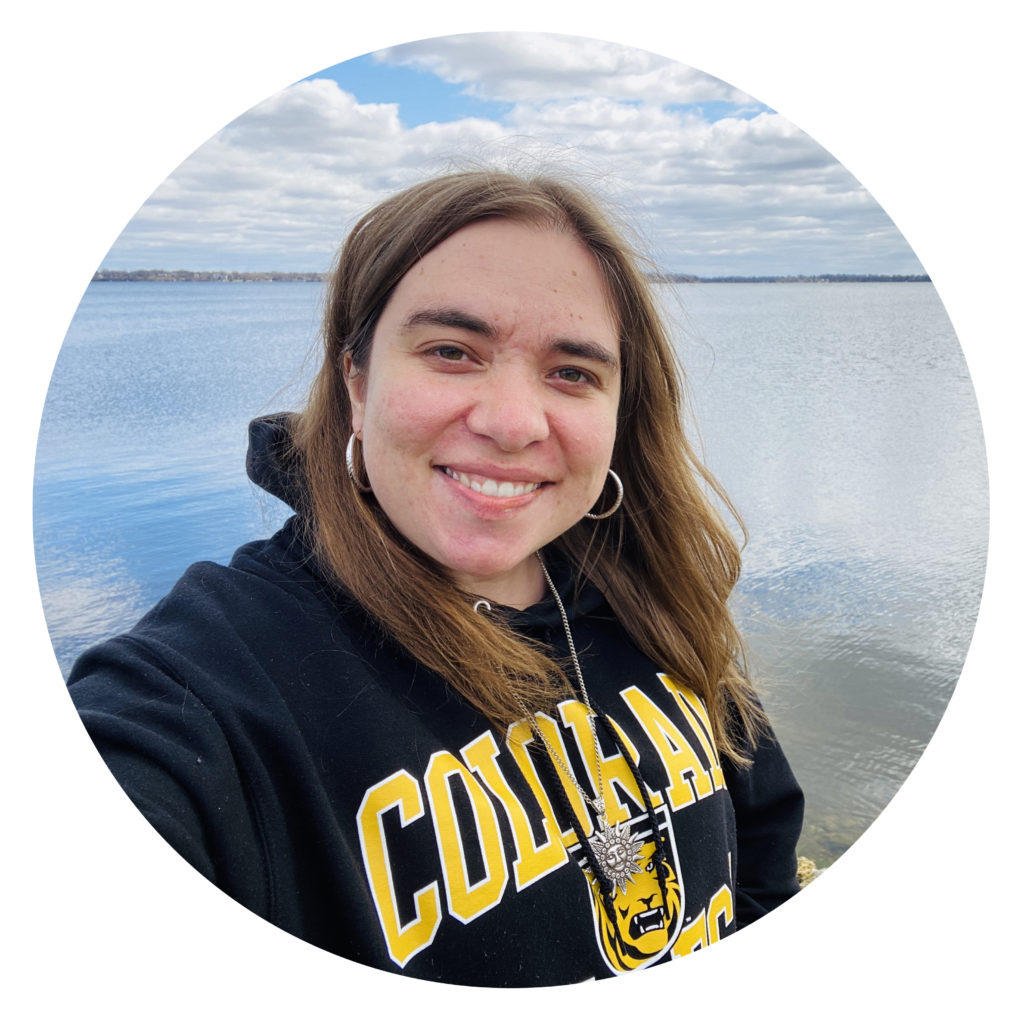 Brenna Swift is a former undergraduate writing tutor and a Ph.D. candidate in composition and rhetoric at UW-Madison, where she also serves as an assistant director of the Writing Fellows program. Her work focuses on disability justice, critical pedagogy, writing centers, community engagement, trauma-informed practices, and education for social justice.

---
Works Cited
Darder, Antonia. "Paulo Freire Fifty Years Later: An Afterword." In Reinventing Pedagogy of the Oppressed: Contemporary Critical Perspectives, edited by James D. Kirylo. Bloomsbury, 2020.
Diab et al. "A Multi-Dimensional Pedagogy for Racial Justice in Writing Centers," Praxis: A Writing Center Journal, vol. 10, no. 1, 2012.
Ellsworth, Elizabeth. "Why Doesn't This Feel Empowering? Working Through the Oppressive Myths of Critical Pedagogy." Feminisms and Critical Pedagogy, edited by Carmen Luke and Jennifer Gore, Routledge, 1992, pp. 90-119.
Freire, Paulo. Pedagogy of the Oppressed. Translated by Myra Bergman Ramos. Continuum, 2005.
Greenfield, Laura, and Karen Rowan, editors. Writing Centers and the New Racism: A Call for Sustainable Dialogue and Change. Utah State UP, 2012.
Hobson, Eric H. "Writing Center Practice Often Counters Its Theory. So What?" Intersections: Theory-Practice in the Writing Center, edited by Joan Mullin and Ray Wallace, National Council of Teachers of English, 1994, pp. 15-24.
Inoue, Asao B. Antiracist Writing Assessment Ecologies: Teaching and Assessing Writing for a Socially Just Future. The WAC Clearinghouse and Parlor Press, 2015.
Ozias, Moria, and Beth Godbee. "Organizing for Antiracism in Writing Centers: Principles for Enacting Social Change." Writing Centers and the New Racism: A Call for Sustainable Dialogue and Change. Utah State UP, 2012, pp. 150-174.