By Mike Haen and Brenna Swift –
Late in the fall 2018 semester, we wrote a post about our work with Johnson Creek High School teacher Kyle Collins and his students, who visited UW-Madison in October for a orientation to writing center work. Prior to their visit, Kyle and his students had recently launched a mini-pilot program in which high school students tutored middle school students. Their initial success with that program spurred their interest in learning more about the dynamics of writing center work, a process that has continued into spring. We have decided to share a new post to update you on the growth of the writing center at Johnson Creek and give you a glimpse into these learning experiences, which students have described here in their own words!

During the students' visit to UW-Madison last semester, we discussed the complex roles of writing tutors as well as distinctions between global and local concerns, which are so central to writing center teaching. Students from Johnson Creek also practiced talking about their own writing and their peers' work in simulated tutorials. The visited concluded with a Q & A panel with undergraduate Writing Fellows, who shared their experiences with writing in college and undergraduate student life more broadly. With spring semester underway, we wanted to catch up with Kyle and his students to hear their own perspectives on what is new and exciting at Johnson Creek's High School writing center.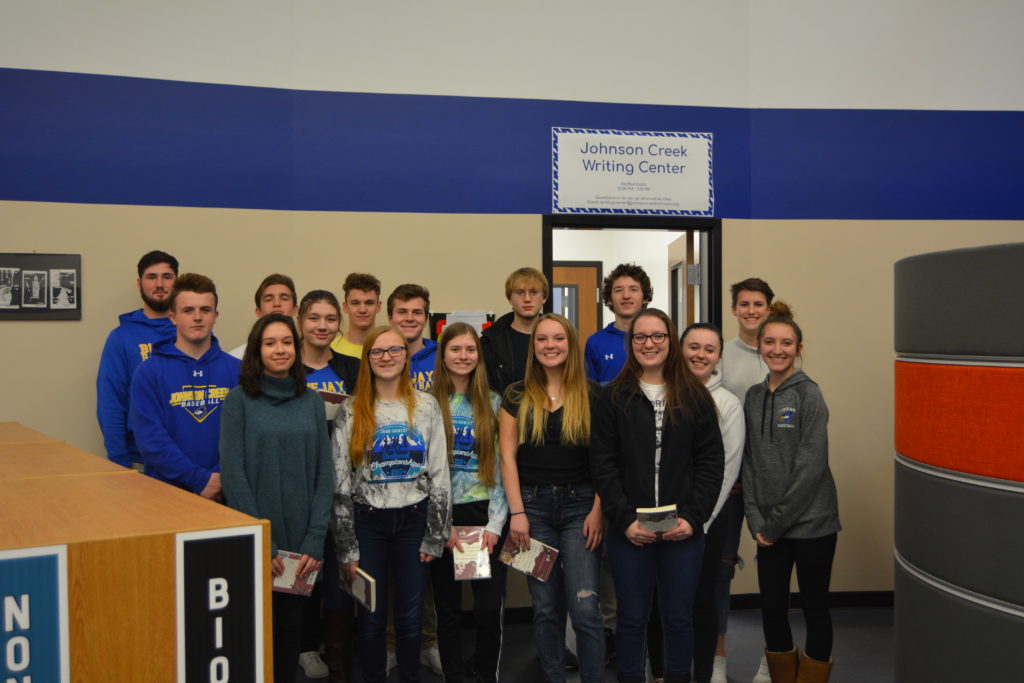 Perspectives from Tutors and Students
Reflecting on the program's development so far, Kyle has seen a change in students' attitudes about learning and the value of learning alongside others. He explained that, "most exciting aspect has been seeing students actively caring about their peers' success." The help that the tutors provide goes beyond papers and includes PowerPoint presentations and other course projects, including projects from science courses and other classes that students may not initially associate with writing.

In their work with middle school students, several tutors describe the learning has been reciprocal. For example, one tutor explained that writing center teaching helped them become "better at understanding what prompts are asking of me when I write." Another tutor explained, "I sharpened up my own writing skills through helping students at the writing center." Importantly, tutors shared that they find their work rewarding and value seeing other writing processes and writing styles in that work.

The words of Kyle's students remind us of a 2017 article in The Peer Review, co-authored by nine former middle school tutors. Their experiences support the idea that writing center work can profoundly shape a student's middle or high school experience—improving writing skills, boosting confidence, and even influencing career plans. One of Kyle's students shared that their work in the new writing center has improved their ability to relate to others: "I always struggle when it comes to helping people out and making suggestions, and get frustrated. This writing center has helped me to work on my communication skills as well, making me a better tutor and person." Two of Kyle's other students shared with us that they have learned new ways of approaching their own assignments in the process of helping other writers. Kyle, himself a former writing center tutor, described the shifts in mindset that tutoring can prompt for high schoolers:

For high school students it is easy for them to get caught up in what they have to do each day. With the Writing Center it forces students to sit down and think about what others are going through. It allows them to see that other students in the school are having difficulties writing, or need help as well. I think this Writing Center has really helped to show our students that other people care about them and their success, and for the tutors, that there are other people in the school who need help in their classes as well, and it's not a bad thing to ask for help.S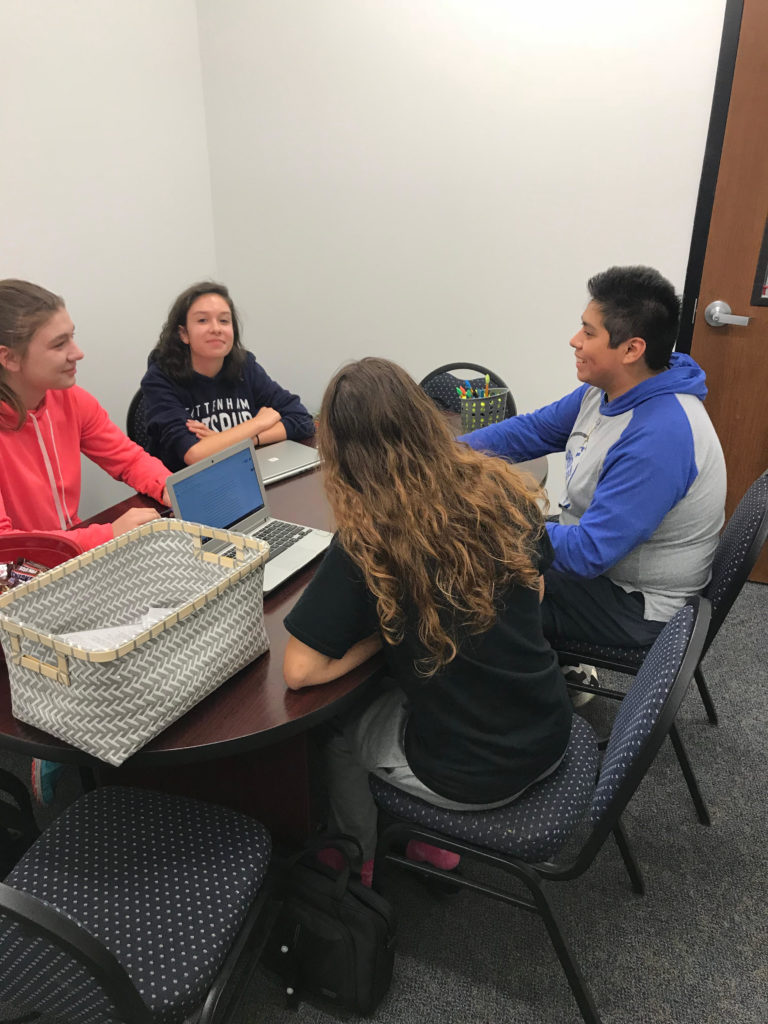 Finding Opportunities for Writing Center Work
Since the launch of the Johnson Creek writing center, Kyle has been actively spreading this message, emphasizing that all writers need help with their ideas and drafts. He does this in part by organizing what he describes as "push-ins." When teachers are about to start a writing project in their class, they notify Kyle and he works with them to "plan a day where our classes merge and all 16 of my tutors pair with kids and work with them throughout the day." He has found students are reluctant to visit the Writing Center for the first time, but "if they are able to do it in a classroom where everyone else is also working with a tutor, they feel much more comfortable with visiting Writing Center on their own in the future." These "push-ins" and periodic group tutoring in classes have helped the center promote its mission.

Going forward, Kyle and his students want to continue building a school culture that values peer learning. While there remain logistical challenges (tutoring can only happen for 45 minutes of the school day), the Johnson Creek writing center has already made an impact on tutors and writers.

We enjoyed catching up with Kyle and his students this spring and wish them continued success in their writing center work! In fact, the experience of working with Johnson Creek has shown us just how valuable collaborative spaces for high school and college writing instructors can be. We hope to seek out and build more of these spaces in the future, as we believe all participants end up learning wonderful things about what is possible.

In the meantime, those interested in starting high school writing centers might check out Richard Kent's website on starting student-staffed writing centers at elementary, middle, and high school levels, as well as this wonderful book on high school writing centers and a previous post on Another Word. This article from the Northern Virginia Writing Project describes the launch of the Wildcat Writing Center at Centreville High School, one of the inspirations for the new writing center at Johnson Creek High School. We believe that writing center work offers the chance for students of all ages to listen and be listened to, to share ideas, and to see the power of both writing and collaboration.