By Bradley Hughes –
In August of this year I retired from my career as Director of the Writing Center and Director of Writing Across the Curriculum at the University of Wisconsin-Madison. I had the privilege of directing the Writing Center for 35 years (from 1984-2019) and the Program in Writing Across the Curriculum for 29 years (from 1990-2019). To celebrate my retirement, my fabulous colleagues Emily Hall, Nancy Linh Karls, and Jennifer Fandel organized a celebration of writing on Wednesday, May 15, 2019, in the Alumni Lounge at the Pyle Center, a beautiful room on campus overlooking Lake Mendota.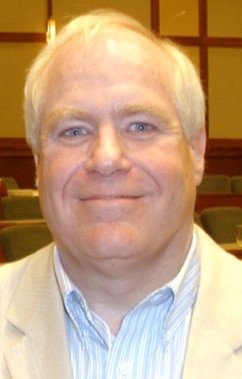 The weather and that location were perfect—the Alumni Lounge in the Pyle Center is where we launched the very successful first International Writing Centers Association Summer Institute in 2003, and when the IWCA Summer Institute returned to UW-Madison in the summer of 2008, we began the week in the same beautiful spot. The College of Letters and Science, the Writing Fellows Program, the Writing Center, and the English Department at UW-Madison generously provided funding for the room and the refreshments. And about 200 colleagues, students, friends, and family from departments all across the university and from as far away as Washington State, Indiana, Texas, New Jersey, Iowa, Connecticut, Illinois, Kazakhstan, and China were kind enough to stop by.
Emily and Nancy asked me to use this blog post to share the remarks that I gave at the end of that celebration, after colleagues had kindly offered some tributes about my work. So in case any of this is of interest, here is a list of the speakers from the celebration followed by my remarks from that day and a special poem by a wonderful colleague. I also include below links to audio recordings of these tributes at UW-Madison and of tributes at a special celebration at CCCC in Pittsburgh in March 2019. I also share below links to a few of the posts I've written for this blog that explain in more detail ways I conceptualize and approach different dimensions of writing center and WAC work. And I've included a set of PowerPoint slides from my celebration–a photo history of my career. I am delighted to have this chance to write one more time for a blog that I thoroughly enjoyed creating with Rik Hunter and other wonderful colleagues and writing for and editing over the past ten years.
Speakers at the Celebration of Writing for Brad Hughes
Russ Castronovo, Professor of English and Chair of the English Department
Joseph Wiesenfarth, Professor Emeritus of English
John Karl Scholz, Professor of Economics and Dean of the College of Letters and Science, now Provost of UW-Madison
Susan Zaeske, Associate Dean for the Arts and Humanities, College of Letters and Science
Greg Downey, Associate Dean for the Social Sciences, College of Letters and Science
Kate Vieira, Associate Proessor and Susan J. Cellner Chair in Literacy, in the Department of Curriculum and Instruction
Russ Castronovo

Joseph Wiesenfarth

Karl Scholz

Susan Zaeske

Greg Downey

Kate Vieira
Morris Young, Professor of English and Director of English 100
Mia Alafaireet, TA Assistant Director of the Writing Center and PhD student in literary studies in the English Department
Antonio Byrd, former TA Assistant Director of the Writing Center and now Assistant Professor of English at the University of Missouri-Kansas City
Mike Haen, TA Assistant Director of Writing Across the Curriculum and PhD student in composition and rhetoric in the English Department
Kathleen Daly Weisse, former TA Assistant Director of Writing Across the Curriculum and now Director of the Writing Center at Marist College
Jenna Mertz, former Undergraduate Writing Fellow and now Associate Director of the Writing and Media Center at Iowa State University
Morris Young

Mia Alafaireet

Antonio Byrd

Mike Haen

Kathleen Daly Weisse

Jenna Mertz
Mary Fiorenza, Associate Director of English 100
David Zimmerman, Professor of English and Associate Chair of the English Department
Elaine Klein, Associate Dean of the College of Letters and Science and Director of General Education for UW-Madison
Kim Moreland, Director of the Writing Center at the University of North Texas
Chris Castro, Program Director of Madison Teaching and Learning Excellence
Janet Batzli, Director of the Biocore Program
Mary Fiorenza

David Zimmerman

Elaine Klein

Kim Moreland

Chris Castro

Janet Batzli
Yoshiko Herrera, Professor of Political Science and Former Faculty Director of UW-Madison's Partnership with Nazarbayev University in Kazakhstan
Jo Handelsman, Professor of Plant Pathology and Director of Wisconsin Institute for Discovery
Jennifer Fandel, Administrator of the Writing Center
William Cronon, Professor of History, Geography, and Environmental Studies
Rebecca Nowacek, Associate Professor of English and Director of the Ott Memorial Writing Center at Marquette University
Nancy Linh Karls, Science-Writing Specialist at the Writing Center and Director of Madison Writing Assistance
Emily Hall, Director of the Writing Fellows Program
Yoshiko Herrera

Jo Handelsman

Jennifer Fandel

William Cronon

Rebecca Nowacek

Nancy Linh Karls

Emily Hall
Brad's Remarks after the Tributes
Wow, 25 speakers! Funny–because of the topic of their talks, I didn't find that long at all or excessive. As I was listening and counting, I wondered–is it just a coincidence that the # of speakers this afternoon is the same as the current number of candidates for the Democratic nomination for president?
To all of you who just spoke, thank you very, very much those overly kind words. I am deeply honored to have such a distinguished group speak this afternoon–I really mean it. But when you have a chance, I'd urge you to schedule an appointment with me at the Writing Center so we can work on reducing the amount of hyperbole in what you write. For those of you who just listened to all of those encomia, a huge thank you for being here this afternoon. It means the world to me that you are all here.
I promise that I will be brief–just 5 minutes. I guess that means I can't share with you my half-hour treatise on why writing centers and WAC are the most important parts of a university. And I won't give my new talk about connections between teaching writing and quantum mechanics–I honestly have theories about that.
Just in case you were wondering, I did NOT grow up wanting to be a writing center or WAC program director. I wanted to be an airline pilot or air traffic controller or professional saxophone player. There are similarities, trust me. I guess that 35 years is a long time, but it honestly doesn't feel that long, because, at the risk of sounding naive, I love the work that I do. The work that I do moves from incredibly detailed conversations with student-writers to big-picture long games of developing sustainable academic programs and partnerships. I would love to tell you about some of my writing center students–a doctoral student in industrial engineering, who was writing his dissertation about designing computer programs and mathematical models for controlling robots in Amazon's warehouses. Or last December a senior majoring in statistics who was writing application essays for masters programs in business analytics; she just wrote me to tell me that in the fall she's going to William and Mary with a scholarship. Or about the student from Egypt in my style workshop–he was studying–get this field–social pharmacy. I have the same detailed conversations about teaching writing with undergraduate writing fellows, with TAs, and with faculty.
And my work takes me all across the university; and all across the US; and around the world. It's not an accident that you all come from such a variety of departments across UW-Madison and beyond–colleagues here from chemistry and nursing and the Chancellor's Scholars program and undergraduate academic awards and the libraries and chemical engineering and German and history and psychology and FIGs and the graduate school and DesignLab and DoIT and LSS and plant pathology and student academic affairs and the LaFollette Institute of Public Affairs. And from teaching and learning programs across campus. And from MATC and UW-Milwaukee. And from Texas and Washington State and even from Kazakhstan.
Why am I across campus all the time? Not just because I've heard there are more beautiful buildings than Helen C. White Hall. It's because we all need to recognize that a university runs on writing. A research university is a writing university. Think about that for a minute. A research university is a writing university. And writing belongs to every discipline. It's a key to learning and understanding and owning existing knowledge. There are good reasons why writing-intensive courses are a high-impact practice. Writing is a key to discovering new knowledge. To analyzing data and texts and history and policies, to articulating and supporting new theories. Writing is key to funding research. To disseminating new knowledge. Writing lets us see what we know–and what we don't. It's how we critique existing structures and effect change in this world. Writing demands precise thinking, logic, elaboration, development, support for claims. It's how we persuade others that we are right. As teachers, the writing our students do gives us windows into what they understand–and what they don't. Beyond the university, the worlds of business and government and industry and non-profits run on writing too.
We also need to recognize that complex writing is extraordinarily difficult to do well. And it's up to all of us–ALL of us–to help students to claim the power of writing for themselves. Mentoring students to become better thinkers and writers takes slow, patient, painstaking, often invisible work–but it's essential work. We all have to support a curriculum and a university that value writing in all disciplines. A great university needs a strong writing program and a strong writing center, a center of consciousness for writing. And because this is a shared enterprise with all disciplines, it needs a strong WAC program–faculty in all disciplines need support to learn to do this critical teaching well and future faculty–our graduate students–need this mentored teaching opportunities.
Let me close with just a few thanks, which inevitably are inadequate and will miss too many people. First, I want to thank the Pyle Center staff for their work setting up and catering and staffing this beautiful reception. I want to thank my parents who were never teachers in their careers but who always encouraged my curiosity and taught me that leadership is a form of teaching. And I should thank the teachers and professors who took an interest in me, and whose values and words echo in mine. I feel profoundly lucky to have had my career in THIS writing center and WAC program, in THIS English department, in THIS College of Letters and Science, at THIS university. I have been fortunate enough to travel to all kinds of other universities but always am deeply grateful to return to this one. And at UW, I want to thank Joe Wiesenfarth and Stan Henning and Bill Lenehan and Sherry Reames and Judy Craig–for being such crucial mentors throughout my career. And all of the deans and associate deans in L&S and the graduate school I have been so lucky to work with. And English department chairs and associate chairs. And colleagues in the UW-NU partnership. And many, many colleagues–I am delighted that I do NOT do my work alone. I value enormously the intellectual relationships and support I have had from amazing composition and rhetoric faculty in the English Department, including colleagues who did such powerful work here before they retired, Marty Nystrand, Deb Brandt, and Ceci Ford. And fabulous current colleagues Mike, Mary, Morris, Christa, Kate, and Caroline. And faculty and staff all across this vast university. And wonderful university staff–Kathy, Spring, Julie, Brenda, Robyn. And IT visionaries, Greg Putnam, Les Howles, and Blaire Bundy. I am deeply, deeply grateful. Then finally the amazing TAs and undergraduate writing fellows I've had the joy to work with in the writing center and WAC for so many years. And the closest colleagues, who, no surprise, have organized this event–Nancy and Emily and Jen. And the Writing Center's former administrator and good friend, Terry Maggio. And I want to thank my brother Greg who came all the way from New Jersey to surprise me today and who has inspired me my entire life. Finally I want to thank my spouse, Elise Gold, and my daughters Lindsey and Jenna, who know better than anyone else how much time my work takes; they support and inspire me in the most amazing ways every day.

I hope that you all love your work as much as I love mine. Thank you very much for witnessing my work and my passions today.

In case you would like to hear an audio recording of the tributes from Brad's retirement celebration at UW-Madison, here is a link. (Warning: it's long!)
And in case you would like to hear an audio recording of the tributes from Brad's retirement celebration at CCCC in Pittsburgh in March 2019, a celebration so kindly organized by my wonderful friend and co-author Rebecca Nowacek, here is a link. (Warning–this one is long too, and there's plenty of background noise from the bar where we held the celebration!)
And in case you would like to see a photo history of Brad's career at Wisconsin (and including a few childhood photos:-)), here is a link. (Warning: there are LOTS of photos there!)
In case you'd like to read more about my approaches to writing center and WAC work and more history of our programs, you might be interested in some of the posts I've written for our blog in the past:
Some Photos from the Celebration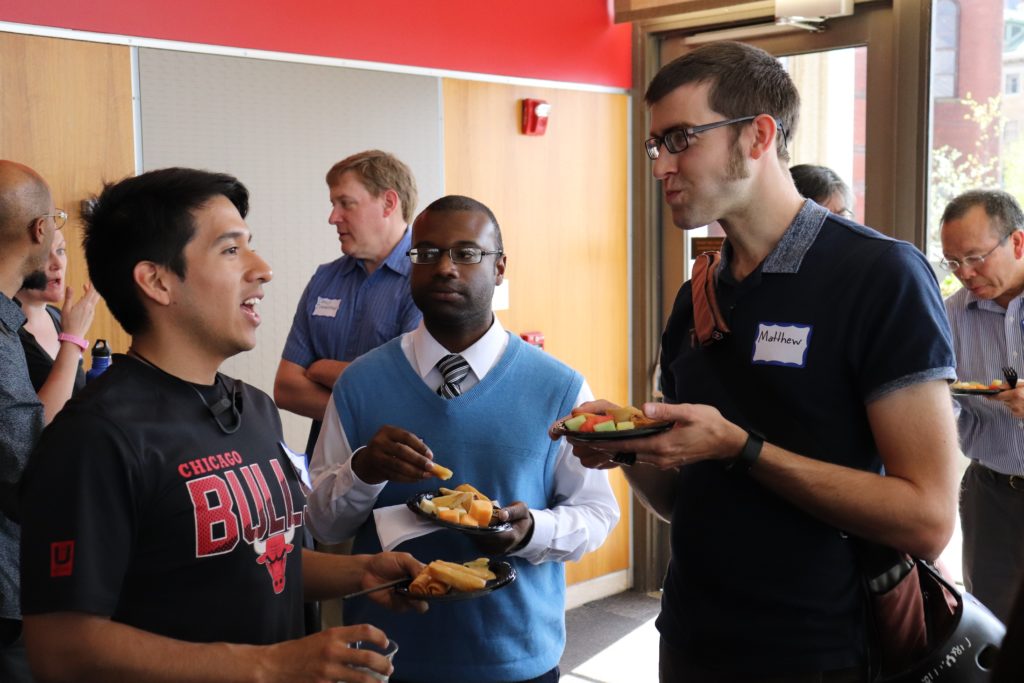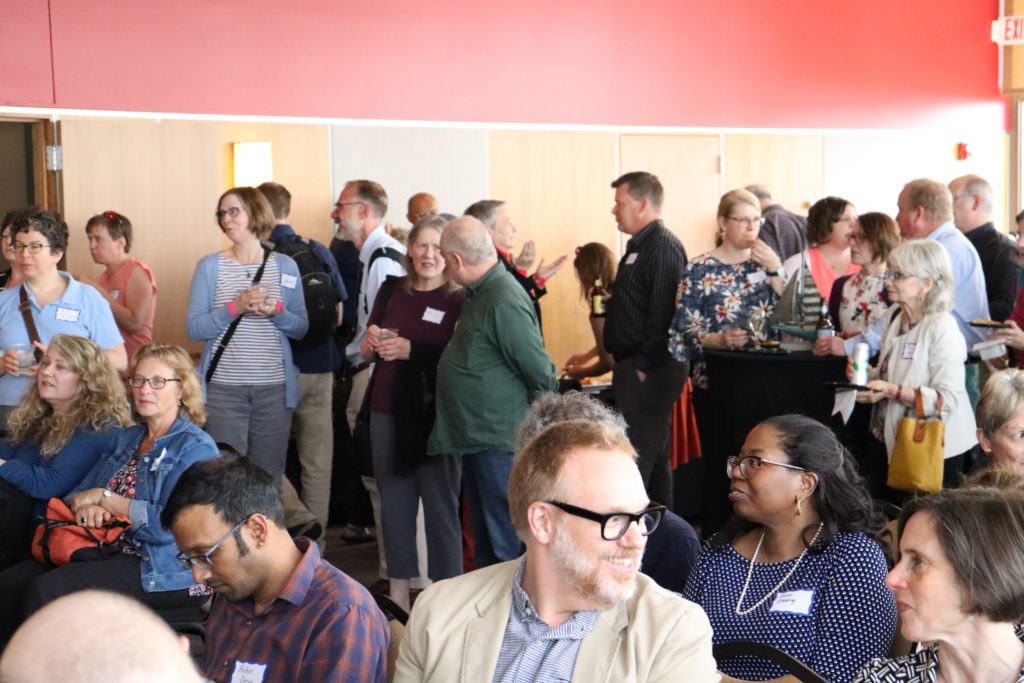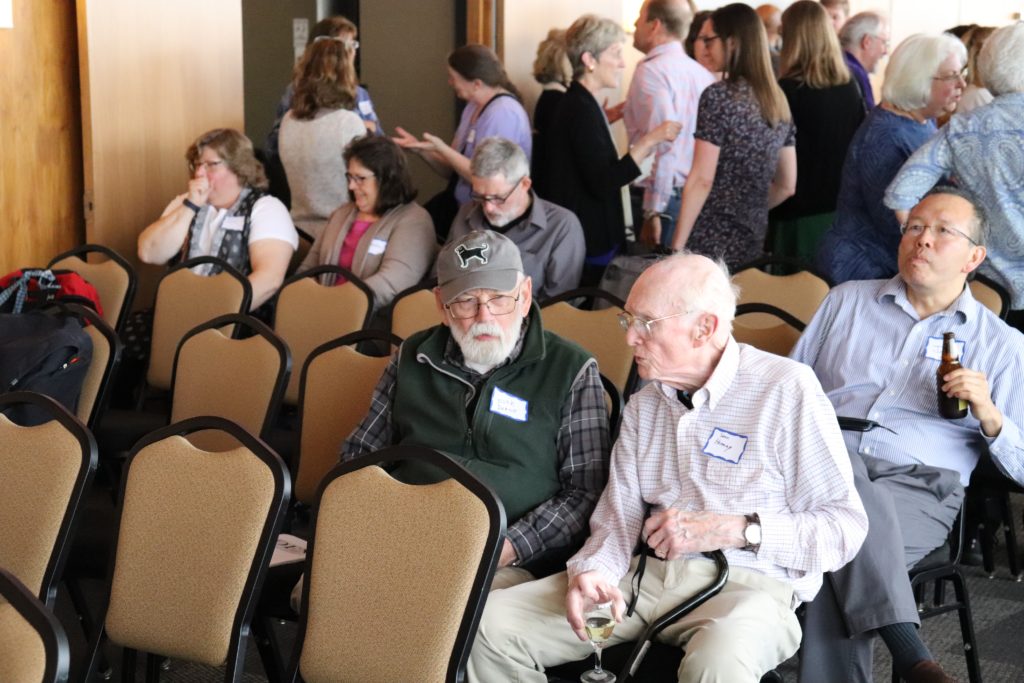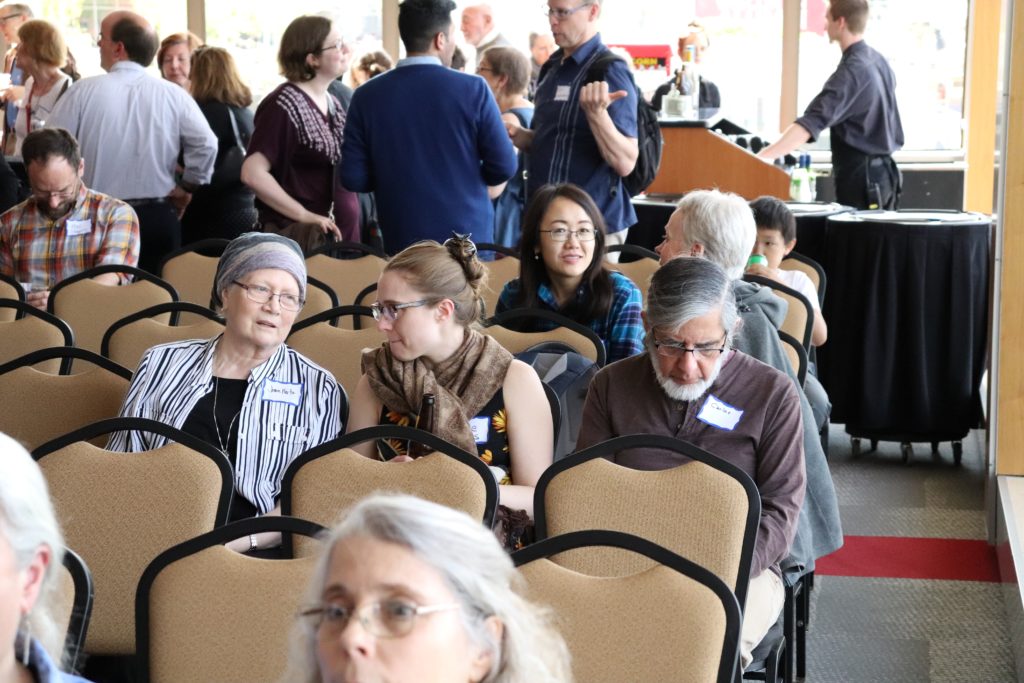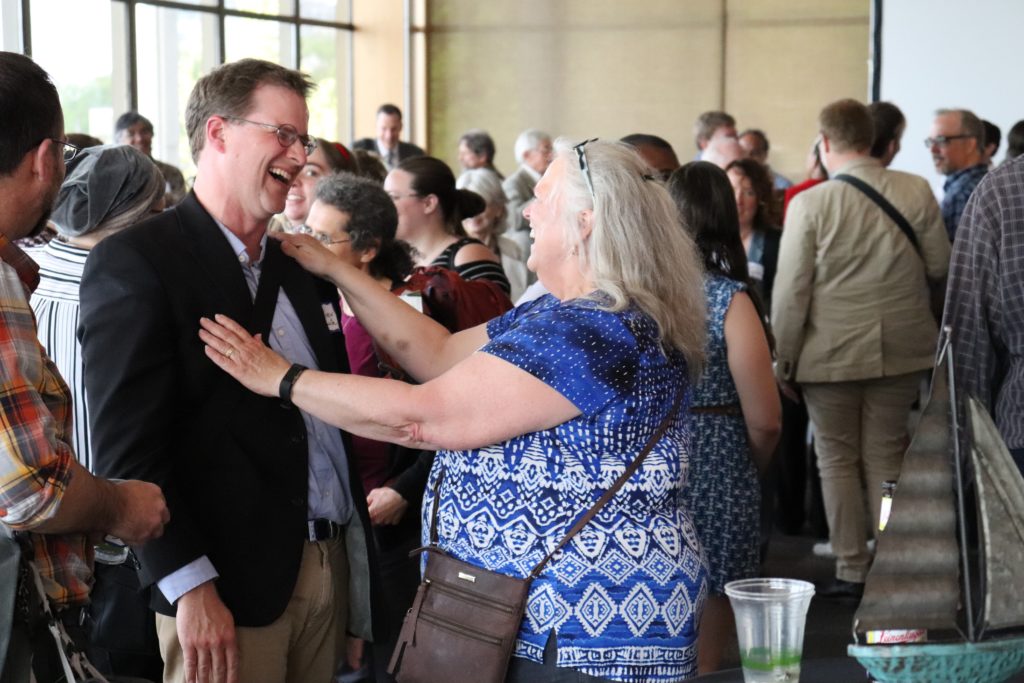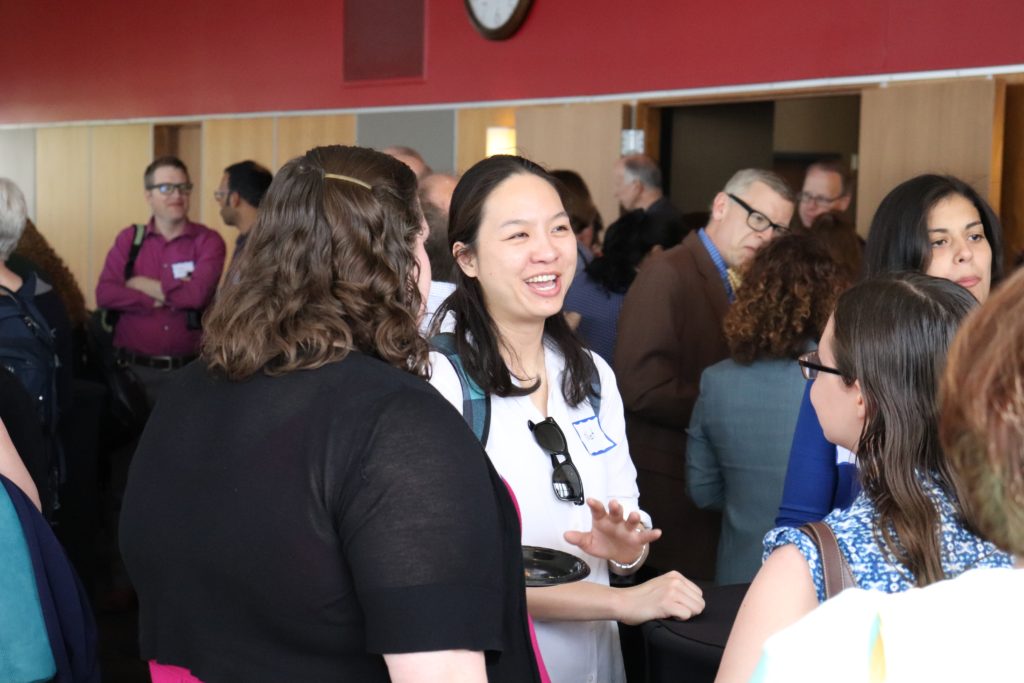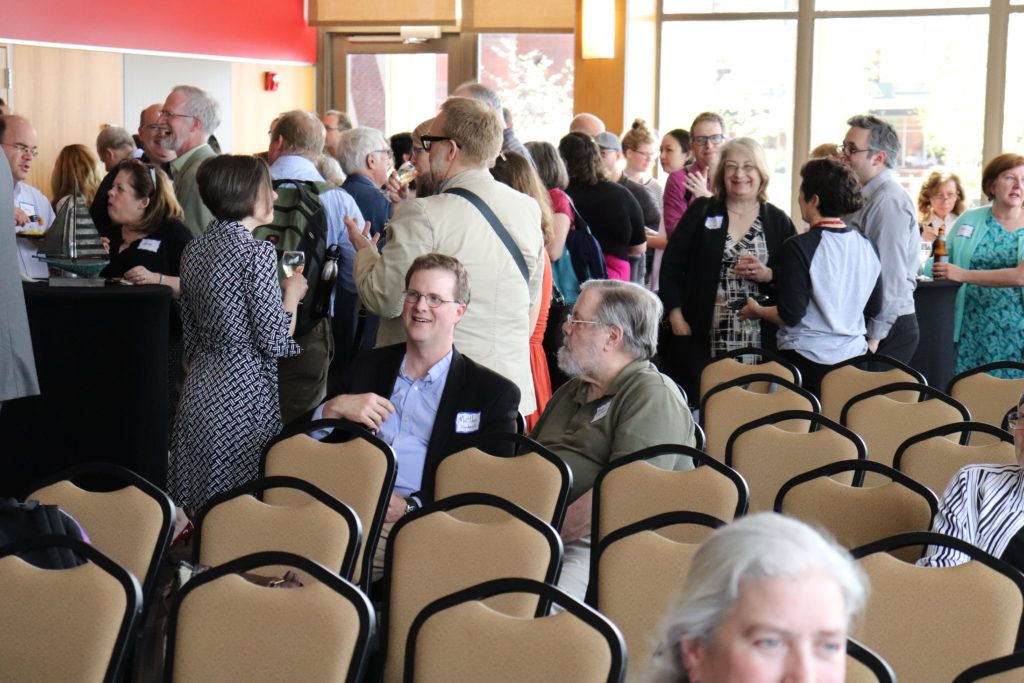 My Future
Although I will no longer be working with these programs that I love at the University of Wisconsin-Madison, the Writing Center's programs and WAC have fabulous, talented, visionary, and dedicated leadership, from colleagues I admire more than I could ever say; a smart, dynamic, dedicated staff of tutors; great partners across campus and beyond; strong, enduring support from talented, visionary department, College, and University colleagues and leaders; and very bright futures. I am not retiring from my professional work–I am already busy finishing some research projects and publications and starting exciting new ones. I am also busy consulting, teaching, giving keynote addresses and invited lectures, and evaluating programs at universities around the US and in Kazakhstan (my 8th trip there), in Poland, and in China (in October 2019 I will be giving a keynote address at a conference and lecturing at six different universities in China). I am eager to keep learning from wonderful writing center and WAC friends all over the world and to share anything that I happen to know.
Finally, I would like to share a special gift. Professor of English Emerita Deborah Brandt–my wonderful long-time colleague and friend at UW-Madison–honored my retirement by writing a poem about my career, which she kindly gave permission to share.
Brad's Boat, by Deb Brandt, May 2019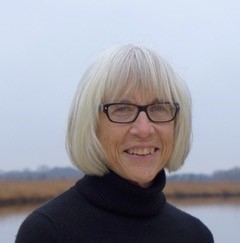 We all worked together in a cove on a lake.
Tucked in.
It was a place for idle ideas.
Quiet.
Except for the guy who was building a boat.
Hammering.
Hammering.
Into the night, and up the next day.
He would not stop,
This Noah on a mission.
Brad, Brad,
The boat is too big.
No, no, he would answer, it needs another side.
Hammering.
Hammering.
This Noah with a vision.
One time he stopped hammering and watched with me
As the lake was cracking open from the winter freeze.
We could hear it groaning.
By tomorrow, he said, we will have the water again.
Then, back to hammering.
For years he was at it.
Brad, Brad,
The boat is too big.
No, no, it needs this angle here.
The rest of us kept dreaming over the lake,
Wondering when he would stop.
No, no, it needs another deck.
Hammering.
Hammering.
When did we realize he had built the boat under us?
Brad, Brad,
The boat is too big.
We can't get it out of this cove.
Six stories above Mendota,
We can't get it out of the door.
You will have to leave without it.
Too big and too perfect to be turned around.
Photo Credits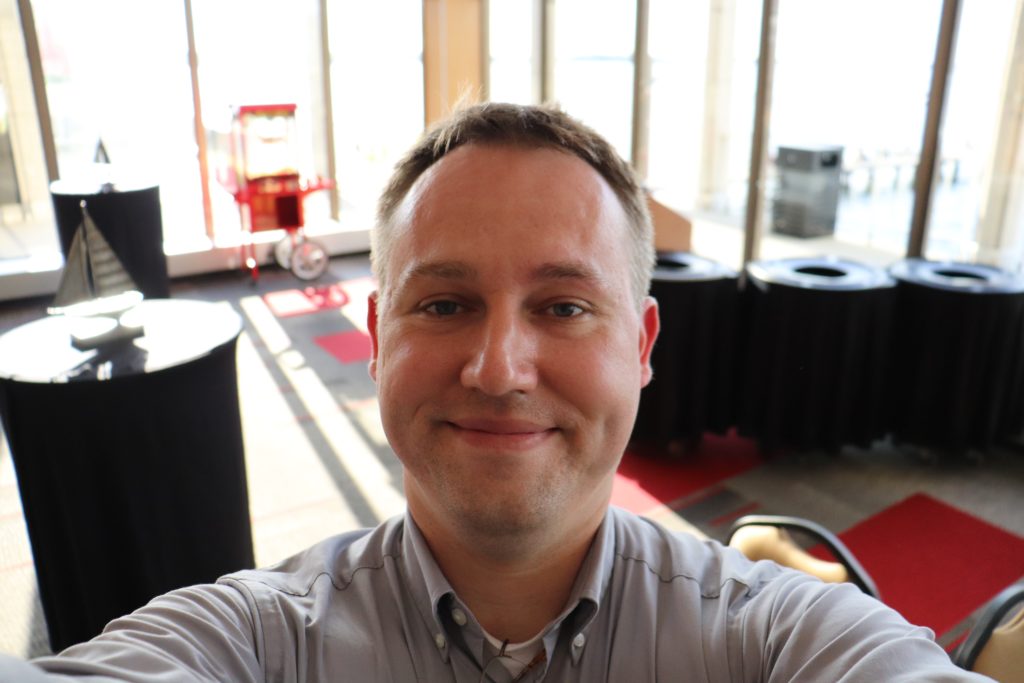 Featured photo credit: Bryce Richter, University Communications.
A huge thanks to Aaron Vieth for taking and curating all of the photos from my retirement celebration!